CLA Online Academy: Summer 2015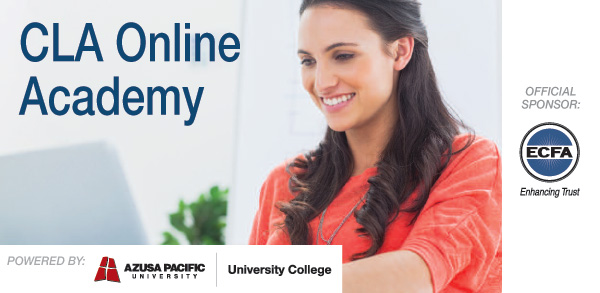 The CLA Online Academy features practical, biblically-based, insights from thought leaders from the front lines in these fields. Our faculty has proven expertise in nonprofit fundraising, leadership, people management, technology and social media, and more! Powered by Azusa Pacific University College and sponsored this year by ECFA, this online experience is perfect for busy ministry professionals who need flexibility when it comes to working on their leadership development.
The CLA Online Academy also gives organizations the opportunity to enroll an entire team to go through one of these modules at the same time. The beauty of this approach is that your team can grow together, fulfilling your mission of ongoing staff development, without their ever having to leave your home office. It's the most cost-effective way of offering your team the best in Christian leadership training.
CLA will even work with you to create a special cohort class made up entirely of your in-house team(s), or you can register for modules that are comprised of like-minded leaders from organizations across America and the world.
There are so many options available to you and your teams through the CLA Online Academy. Take a look at what is planned for Summer 2015 and if CLA can do something special for your whole team – just contact us!
Summer 2015 Term
Registration Deadline: June 29, 2015  (Register right from the module of your choice)
Modules Begin: July 6, 2015
CCNL Required Module 
Faculty: Tami Heim
The module is designed to provide the leader of a nonprofit organization an executive-level view of what is required for God-honoring personal, organizational and board leadership. Creating a roadmap, this module lifts a leader to higher thinking about the role of executive leadership and how senior leaders influence the organization, the board and those the organization exists to serve.
Board Governance 
Faculty: Dr. Randal Dick
A great board is a blessing to everyone who supports, works for or benefits by the organization. Great board performance requires a total system that goes beyond the sum of its individuals. This module will provide a conceptual framework for a highly effective board. The module will examine the boards's role in forming and maintaining mission-vision-strategy. It will also explore the various common destructive board behaviors that undermine productivity.
Executive Leadership
Executive Leadership and Money
Faculty: Dr. Mark. L. Vincent
This module prepares executive leaders to navigate the role of money in organizational life. Typically, executive leaders have extensive background in finance or none at all. Those with none tend to try to avoid money responsibility and hope others can carry the day. Those with financial backgrounds often see numbers alone and fail to understand the intersections of human capital and economic behaviors. This module helps executives navigate the bridge between numbers and people.
Financial Management
Day to Day Financial Management
Faculty: Christina Adams
This module is designed to provide basic information on the day-to-day financial management aspects of a ministry accountant's responsibilities. Among a diversity of topics we will cover: what goes in a procedures manual; how to manage well an accounting department; understanding cash and debt management scenarios; best paths to expense reduction, and how to ensure due diligence in managing ministry investments.
Internet & Technology
Faculty: Dr. David Bourgeois
This module is designed to provide ministry leaders with a better understanding of the digital tools used for ministry. It presents them with a set of best practices for their use and discusses the theological implications that these tools bring to a ministry. Upon completion, the participant should have a better understanding of the role that these technologies can play in their ministry.
People Management and Care
Employee and Organizational Development
Faculty: Carolyn B. Thompson
This module will provide important foundations and advanced knowledge for navigating trends and best informed practices in: effective training strategy & design, workplace culture/team design & development, developing an intentional learning organization, performance management systems, and succession planning.
Practically Applying the 5 Languages of Appreciation in Your Workplace
Faculty: Dr. Paul White
This module is designed to provide the participants with a thorough understanding of the importance of individuals feeling truly appreciated in their work setting, and to give the tools and resources necessary to be able to effectively communicate appreciation to those with whom you work. Utilizing The 5 Languages of Appreciation in the Workplace and related resources, participants will learn how to practically apply the concepts and overcome common challenges encountered.
Resource Development
Development Strategy and Planning
Faculty:  Shelley Cochrane
This module provides development professionals with an understanding of the benefits and best practices of development strategy and planning. It explores specific elements of strategy, provide a guided process for evaluating an organization's current strategy, includes a matrix and worksheet to evaluate and prioritize recommended changes to the strategy, and gives specific steps for planning and execution that will directly enhance the organization's de
What People are Saying
The online leadership learning opportunities I've received through CLA have been one of the most helpful of all leadership trainings I have attended.

Andrea Stuart, Statewide Director, Contracts, Arizona Baptist Children's Services
CLA's online learning program is the best venue to educate, equip and engage working professionals. The discussion times, best practices and rich content allows each participant to grow deeper in their knowledge, as well as leadership experience. All information is underscored by the Word of God, which encourages the right decision-making based on biblical truths and principles.

Cary E. Vaughn, CCNL, CEO/President, Love Worth Finding Ministries
The resource development courses that I took not only gave me the tools to use, but also the desire to take my fundraising to a new level. Learning the biblical principles of fundraising was invaluable! I now live my life in His service and rely totally on Him for the increase!

Terri Lipscomb, Director of Fundraising Development, Living Alternative Pregnancy Resource Center
Taking courses from CLA has been a wonderful way to meet requirements of the CCNL certification. More importantly, from the two courses I have taken – Biblical Foundations of Governance and Biblical Foundations of Christian Development Work – the learning has been directly applicable to my ministry/profession, relevant subject matter, great instructors, and the interaction with other participants amplifies learning.

David Viland, Consultant, CIF Campaigns & Consulting
Save

What is Christian Leadership Alliance?
Christian Leadership Alliance equips and unites leaders to transform the world for Christ. We are the leaders of Christ-centered organizations who are dedicated to faithful stewardship for greater kingdom impact.
Sign up for FREE blog updates.