Transform: v. To make a thorough and dramatic change in form, appearance, and character

As a leader, you know the continuous pressures of high-velocity change. The needs and challenges in today's world are increasing, even as technology rapidly advances and access to information grows. We as leaders are experiencing a perfect storm of colliding change-agents.
But leaders who follow Christ have a different perspective and response to intensity of change. That is why the theme of the Outcomes Conference 2020 is "TRANSFORM."
Being transformed into the image of Christ requires sacrifice, surrender and the intentional conditioning of our hearts and minds, but it makes all the difference in how we lead — and follow.
Therefore, I urge you, brothers and sisters, in view of God's mercy, to offer your bodies as a living sacrifice, holy and pleasing to God — this is your true and proper worship. Do not conform to the pattern of this world, but be transformed by the renewing of your mind. Then you will be able to test and approve what God's will is — his good, pleasing and perfect will. (Rom. 12:1–2)
This is a special invitation to register early for The Outcomes Conference 2020.
Featured Thought Leaders
For 2020 our featured thought leaders will be CEO's from a variety of ministries who are walking through radical transformations. They will  touch on the transformation of communities through collaboration, strategies that accelerate impact, culture that reflects Christ-like leadership and the impact of restoring Divine design.  Learn more about each of these leaders and the organizations they serve.
Matt Bird, Founder and CEO of Cinnamon International
Rev. Dr. Alvin Sanders, President and CEO of World Impact International
Jacinta Tegman, President and CEO of CRISTA
Ken Harrison, Chairman and CEO of Promise Keepers
This fall we will reveal the Tuesday Leadership Lab Main Stage presenters!

Special Early Registration Rates
For the best early registration rates of the year, you will want to register by June 30, 2019.
If you are a Christian Leadership Alliance member organization, when you register four leaders, you will earn a fifth one FREE. For the Three-day Experience, you save $1,000 off full-price group rate by registering early!
Ministries that send groups for the Three-day Experience accelerate impact because new best practices are implemented quicker and there is greater team accountability to support it.
Seize this opportunity to be a good steward, intentional plan, and transform your leadership.
Extra Bonus
Finally, if you register by the June 30, 2019 deadline, you will receive the Outcomes Conference 2019 Digital Pass. Enjoy mains stage presentations that will inspire excellence and encourage you to remain rooted in Christ and love!  Listen and learn from these leaders!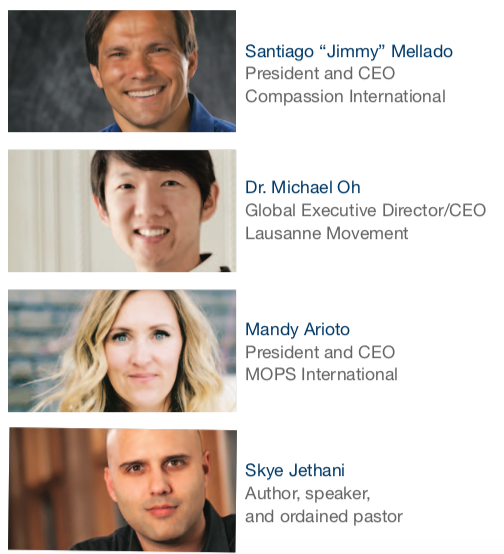 Plus you will receive the presentations from the nine main stage presenters from the Leadership Lab!
Steve Douglass, President Cru and Campus Crusade for Christ International
Dr. Naomi Creamer Overton, CEO for Stonecroft Ministries
Commissioner David Hudson, Commander of The Salvation Army USA
Dr. David McKenna, Founder and CEO of WiLD Leaders
Gabrielle Brosche, Founder and President of The Millennial Solution
Mike Rusch, CEO Pure Charity
Atul Tandon, CEO of Opportunity International
Christine Talbot, SVP Human Resources, World Vision USA
Matt Bird, Founder and CEO of Cinnamon International
The Outcomes Conference 2019 Digital  Pass will be sent to  you from the Alliance Registrar after your registration is secured.
And, if you aren't ready to commit to 2020, you can still purchase the 2019 Outcomes Digital Pass online.
We hope to see you in 2020!

What is Christian Leadership Alliance?
Christian Leadership Alliance equips and unites leaders to transform the world for Christ. We are the leaders of Christ-centered organizations who are dedicated to faithful stewardship for greater kingdom impact.
Sign up for FREE blog updates.