Big News About The Outcomes Conference 2021

Outcomes Conference 2021 –  New Dates and New Location!
Christian Leadership Alliance is pleased to announce the exciting news that The Outcomes Conference 2021 is moving to the new dates of June 15 to 17, 2021, in a spectacular new location – the Hyatt Regency Grand Cypress Hotel in Orlando, Florida.
THRIVING LEADERS
Our 2021 conference theme is "Thrive." Merriam Webster's dictionary says "Thrive" can mean both "to grow vigorously" and "to progress toward or realize a goal despite or because of circumstances…" That's perfect for us as Christian leaders in this moment! It is reminiscent of of Psalm 92:12-13: "The righteous will flourish like a palm tree, they will grow like a cedar of Lebanon; planted in the house of the Lord, they will flourish in the courts of our God."
In the midst of a season featuring challenging circumstances, our prayer for you as leaders is that you would flourish like those palm trees described by the Psalmist. Please join us in Orlando as we "spur one another on toward love and good deeds." (Heb. 10:24)
GOD'S GUIDANCE
As you may know, the Outcomes Conference was originally scheduled to be in Jacksonville, Florida this April, but we diligently sought God's guidance on the timing of the event relative to our first priority: the safety and transformational onsite experience of our attendees. With the wonderful support of the Hyatt organization we were able to make this important shift.
We believe these June dates, allowing for wider distribution of the COVID-19 vaccine, will be highly beneficial for attendees. When we convene in June, we will of course continue to follow and comply with relevant federal, state and local safety guidelines.
NEW LOCATION
This beautiful Orlando resort is right next door to Disney World. It sits on 1,500 acres with a private lake, tennis courts, pools and a Jack Nicklaus Signature golf course. These new dates in this incredible new location will accentuate our "Thrive" theme, you'll even see examples of the flourishing palm trees mentioned in Psalm 92! This refreshing venue will allow you to be restored as a leader as you learn
Hear what our President and CEO Tami Heim had to share about this new venue:
"After visiting the Hyatt Regency Grand Cypress Hotel in Orlando, I must say I have never seen a more ideal layout for what we offer leaders through The Outcomes Conference. Plus, this is a wonderful place for you to bring along your family. It's a wonderful time and place to embrace our 'Thrive' theme as we gather, learn together and encourage one another as leaders."
LEARNING EXPERIENCES
At the Outcomes Conference 2021 you'll be blessed by our in-depth full day seminars, leadership roundtables, forums, workshops and main stage presentations. You will also be able to connect with and learn from peers on the frontlines of God's kingdom work worldwide.
THOUGHT LEADERSHIP
Our team is working closely with thought leaders who were lined up to speak and present at this year's conference to ensure a smooth transition to this new location and time.
We will feature a rich lineup of presenters and faculty, and while there may be a few changes with the new dates, we know this will be a truly transformative learning experience for you. Check our conference website for updates on speakers, faculty and much more.
JOIN US
If you haven't attended an Outcomes Conference before, you'll be blessed by this event's biblically-aligned leadership training, inspiring corporate worship and kingdom collaboration and networking opportunities. If you attended before, you're going to love our inspiring new features including leadership roundtable sessions. It's an event where a leader like you belongs!
We can't wait to be with you and experience what God has prepared for us in Orlando, June 15-17! Please visit www.outcomesconference.org today to register to attend! Bring your family along too, so you all can enjoy all Orlando has to offer.
See you in Orlando!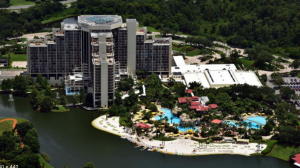 What is Christian Leadership Alliance?
Christian Leadership Alliance equips and unites leaders to transform the world for Christ. We are the leaders of Christ-centered organizations who are dedicated to faithful stewardship for greater kingdom impact.
Sign up for FREE blog updates.