Outcomes Conference 2022 Book of the Year – The Road to Flourishing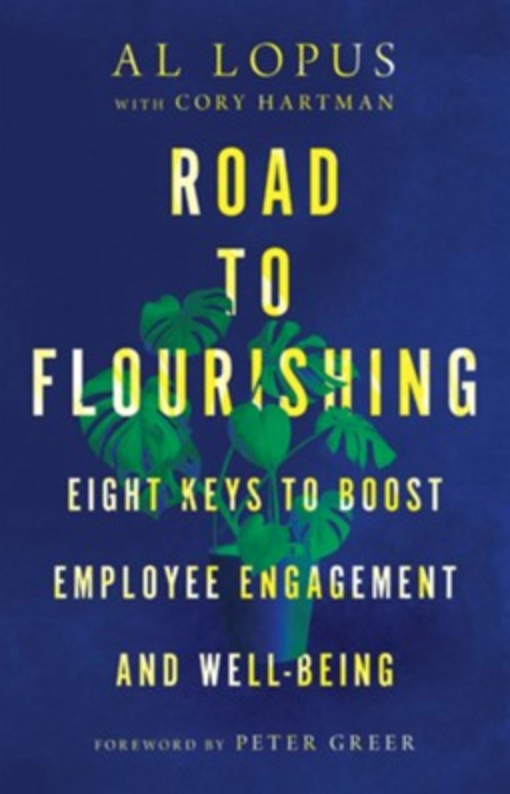 Book of the Year – The Road to Flourishing
Christian Leadership Alliance is pleased to announce that it is recognizing  The Road to Flourishing: Eight Keys to Boost Employee Engagement and Well-Being, by Al Lopus, as the Outcomes Conference 2022 Book of the year. The book officially releases on April 19, 2022.
The Challenge
Many organizations find themselves spinning their wheels in work cultures filled with toxicity, dysfunction, conflict, and fear. Unengaged employees drag down productivity, and ineffective management undermines morale.
How can we create workplaces where people don't just struggle to get through the day, but actually thrive and love what they do and where they work?
Keys to Flourish
Al Lopus, co-founder and CEO of the Best Christian Workplaces Institute, has studied hundreds of organizations to discover eight key drivers in companies with healthy culture and engaged employees. He gathers best practices from across a range of companies and ministries to demonstrate how people at all levels can work together to accomplish work that matters.
Principles and real-life examples provide concrete ways that organizations can flourish by building fantastic teams, cultivating life-giving work, attracting and retaining outstanding talent, and much more.
With compelling case studies, behind-the-curtain revelations, and enlightening personal anecdotes, Road to Flourishing will motivate leaders, managers, and their teams to reimagine, reassess, and renew their commitment to building healthy work cultures where everyone can flourish.
What People Are Saying
If you regularly ponder and discuss your organization's culture or you have never given it much thought, you will benefit from the principles Al shares in this book. In its pages, you will meet leaders who are actively shaping workplace culture. Whether you work within the nonprofit or for-profit sector, you will gain a greater awareness of your organization's needs and how to build a vibrant culture and an engaged team. Al shares stories from some of the countless organizations the institute has helped on the path to flourishing, and implementing his advice will help yours too."
— Peter Greer, president and CEO of HOPE International, from the foreword
---
"Al Lopus has built a remarkable niche of coming alongside ministries―both large and small―to reshape their cultures. While not promising an overnight cure, he identifies areas of unhealthiness and charts doable pathways to flourishing. I have seen his handiwork up close, and it is transformative. With this book, his sphere of influence is broadened. I believe that the Lord is well pleased with his efforts."
— Alec Hill, president emeritus of InterVarsity Christian Fellowship/USA
---
"When it comes to our jobs and the way we work together, God describes his heart in Psalm 115:14, 'May the Lord cause you to flourish.' It's a glorious goal, but how do we reach it? In this powerful new book, my friend Al Lopus describes the key benchmarks in creating an organizational culture where people thrive. Al Lopus was instrumental in helping Joni and Friends become a flourishing workplace―our ministry is a place where our employees love what they do, respect one another, and enjoy extending Christ's kingdom. I highly recommend this exceptional book to your business, church, or ministry organization."
— Joni Eareckson Tada, Joni and Friends International Disability Center
---
"There is a growing consensus among organizational gurus and leaders that a healthy organizational culture is one of the most powerful tools available for lifting performance and improving competitiveness. But just how do you improve something as intangible as your organization's culture? One answer is to call in the 'culture doctor'! Al Lopus is an experienced real-world culture doctor, who has diagnosed and treated hundreds of ailing and failing organizational cultures. In Road to Flourishing, Al lays out his tried-and-true methodology for understanding, assessing, and addressing the common weaknesses in organizational cultures. Reading this one book could be the most important thing you can do this year for your employees and your bottom line."
— Richard Stearns, president emeritus of World Vision US and author of Lead Like It Matters to God: Values-Driven Leadership in a Success-Driven World
---
"Al Lopus doesn't mince words when writing about the toxic work cultures he's observed. But Road to Flourishing is also upbeat―you can create 'life-giving work' for every team member. You have two options: (1) continue to apply inappropriate Band-Aids to your sick workplace, or (2) go deeper and discover how your organization's culture will flourish with God-honoring and intentional best practices. Reading this book with your team members is a no-brainer. Pick one: life-giving work or life-sapping work."
— John Pearson, board governance and management consultant and author of Mastering the Management Buckets
---
"Al Lopus is the culture champion and wise guide who provides Christian leaders with what is needed most to ensure their employees thrive. In The Road to Flourishing you will never have a reason to lose your way. God has entrusted leaders with men and women who have been called to accomplish his plans. This is the book that will enable you to create a culture where everyone passionately gives their best so that God's best is achieved."
— Tami Heim, president and CEO of the Christian Leadership Alliance
Outcomes Conference 2022
We invite you to join us for the Outcomes Conference 2022. On the first day, we will have a special Lunch and Learn Session with Al Lopus to discuss his book and what he has learned through years of studying both toxic and flourishing cultures.
Al Lopus will also be teaching a 90-mnute Breakthrough Workshop entitled:
Building a Flourishing Workplace Culture
Many organizations spin their wheels in work cultures filled with toxicity, dysfunction, conflict and fear. Unengaged employees drag down productivity, and ineffective management undermines morale. Based on the new book, Road To Flourishing; Eight Keys to Boost Employee Engagement and Well-Being, discover the eight key drivers for building flourishing workplace cultures.
Outcomes:
1) Discover keys to a flourishing workplace culture,
2) Determine the health of your current workplace, and
3) Develop and grow your workplace culture.

April 26-28
The Galt House
Louisville, Kentucky
.

What is Christian Leadership Alliance?
Christian Leadership Alliance equips and unites leaders to transform the world for Christ. We are the leaders of Christ-centered organizations who are dedicated to faithful stewardship for greater kingdom impact.
Sign up for FREE blog updates.