Announcing Outcomes Conference 2023 Learning Experiences! By W. Scott Brown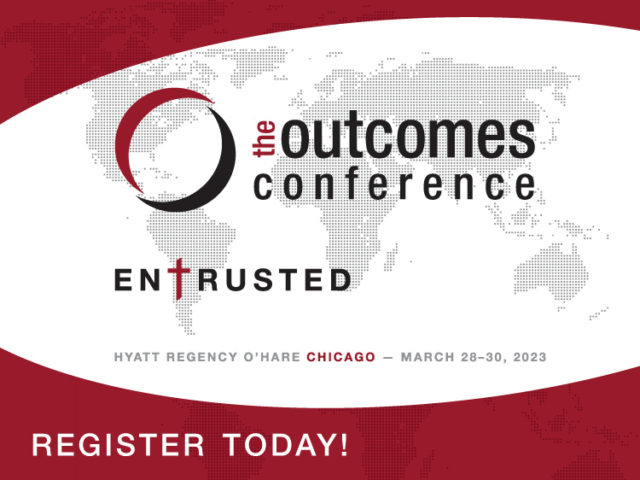 Register for The Outcomes Conference 2023 by Oct. 31 to Save!
We are excited to announce the learning experiences for The Outcomes Conference 2023.
Are you a leader committed to your lifelong growth as a leader Would you like to hone your skills and address key trends influencing Christian nonprofits today? Do you want to connect and collaborate with peers who share your passion for transformational kingdom work? If so, The Outcomes Conference 2023 is the perfect event for you.
Join Christian leaders from around the world at this one-of-a-kind equipping event. Our 2023 theme is "Entrusted." Together we will explore the shared world-changing mission God has entrusted to us as Christian leaders.
(Be sure to register by October 31 for the BEST RATES to attend this life-changing event.)
NEW Learning Experience Lineup
Christian Leadership Alliance has just announced its dynamic new learning experience lineup of more than 100 workshops, intensives, forums, roundtables, plus a NEW IT summit and more. Our experienced faculty hails from many of America's most influential Christian nonprofits, educational institutions and businesses.
Content from Top Thought Leaders
At The Outcomes Conference, you'll hear from faculty with organizations such as: Cru, World Vision, Compassion International, The Salvation Army, The Navigators, Best Christian Workplaces Institute, ECFA, Moody Bible Institute, Youth for Christ, Our Daily Bread, WORLD magazine, Opportunity International, Young Life, Samaritan's Purse, Lead Like Jesus, Belhaven University, Columbia International University, Dallas Theological Seminary, Trevecca Nazarene University and more!
We will feature practical, biblically-aligned training in our nine core learning experience tracks: executive leadership, personal leadership, board governance, resource development, communications/marketing, Internet/technology, financial management, people management and care and legal/risk management. We are so grateful for the excellent thought leaders who faithfully invest their best in leaders like you.
Mainstage Presenters
You'll also be blessed by insights of our inspiring mainstage speakers such as Moody Bible Institute President Dr. Mark Jobe, Christian Talk Radio host Carmen LaBerge, The Navigators International President Mutua Mahiaini, Promise Keepers Chairman and CEO Ken Harrison, Awana President and CEO Matt Markins, and more!
Leadership Forums and More
Dr. Roger Parrott, president of Belhaven University will lead our CEO Forum. Kimberly Hooper, president of Vine Solutions will lead our Christian Women in Leadership Forum. And our annual Women's luncheon speaker will be Christian radio host Season Bowers. And, there's more to come!
Register Today to Save
We hope you will join us at The Outcomes Conference 2023. If you register by October 31 you will get the best rates for America's premier equipping event for Christian nonprofit leaders.
Want to be an exhibitor or sponsor for The Outcomes Conference? Learn more here.
####
W. Scott Brown is the Vice President for Leadership Experiences and Resources for Christian Leadership Alliance, and Editor-in-Chief for Outcomes magazine. He holds a bachelor's degree from Liberty University, and master's degrees in Journalism/Public Affairs from The American University, and in Liberal Arts from St. John's College.


What is Christian Leadership Alliance?
Christian Leadership Alliance equips and unites leaders to transform the world for Christ. We are the leaders of Christ-centered organizations who are dedicated to faithful stewardship for greater kingdom impact.
Sign up for FREE blog updates.