Meet Mutua Mahiaini – Outcomes Conference 2023 Mainstage Keynote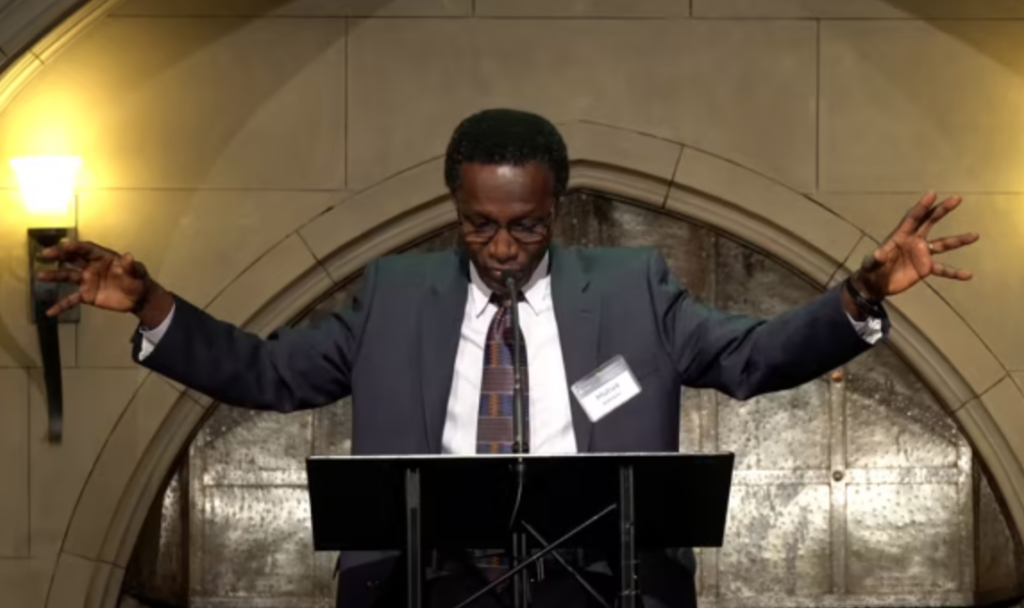 Mutua Mahiaini Brings Wisdom and Insights to Outcomes 2023
Mutua Mahiaini serves as International President of The Navigators overseeing their Worldwide Partnership of more than 5,300 staff serving in 112 countries. Christian Leadership Alliance is grateful Mutua will be ready to invest his best in leaders at the Outcomes Conference 2023. Here you will learn more about him and how God is using him to advance kingdom outcomes.
An Early Commitment
Born in Kenya, Mutua committed his life to Christ at the age of 10 through the influence of his Christian parents. The son of a pastor, he witnessed how God was real and active in all situations! His life points to a journey of faithfulness and increased responsibility. For him it was the start of a great adventure.
Encountering the Navigators
In high school, Mutua made his first Navigator contact and started being discipled. After acquiring his undergraduate degree to teach French, he lived in France while he obtained his master's degree. Then, he returned to Kenya and taught French for two years before joining the Navigator staff in 1981. In 1982, he married Stephanie who had come to Christ in high school and had also been discipled by Navigators. Stephanie has her BA in music and education.
Entrusted with More
Mutua's first Navigator assignment was as a campus leader in Nairobi. He was appointed National Director for Kenya in 1986. They moved their family moved to Côte d'Ivoire in 1995 serving as missionaries leading the national work and coaching leaders in other French-speaking countries. In 1998, Mutua was appointed as Africa Regional Director, and the family moved back to Nairobi. By September 2011, Mutua joined Mike Treneer's International Executive Team. And in 2015 he was selected as the fifth International President of The Navigators and began his new role in that year.
A Leader's Perspective
After taking stepping into his role and the International President, he did an interview for The Navigators Worldwide Newsletter. He was asked about what ways can we encourage one another to continue growing in our relationships with Jesus, throughout our lives. His response:
Part of the answer has to do with the message that we bring to people. The basics are so crucial: We have to be reading the Bible and to be praying. But these things in themselves are not what we preach. Our core message is not "have a quiet time." And yet we cannot do without a quiet time. So we can't confuse the means of growing in Christ with the center of our message. In 1 Corinthians 2:2, Paul says, "For I resolved to know nothing while I was with you except Jesus Christ and him crucified."

That idea of us presenting Jesus as the Alpha and the Omega is such a compelling thing—to communicate Him according to His fullness. . . . We know that the god of this age has blinded many people. So it's not like every time we talk about Christ people are going to respond. But it would be disappointing if we conveyed Christ in a way that makes Him less than He is. This is why we each must know Jesus so deeply, so that we can minister out of the overflow of who He is to us and what we know of Him. There is something about a deep walk with God that is so compelling that people want to come to Him.
We look forward to what God has put on the heart of Mutua and how he will entrust it to us.
Ministry Update & Call for Prayer
You can learn more about The Navigators International plans for 2023 in this recent Worldwide article, New Wave of Global Missions Sending. God is moving and the ministry is flourishing. You will also note there is an invitation to their Worldwide Day of Prayer on March 18, 2023.
You can join the Navigators, all over the world, during this Worldwide Day of Prayer on Saturday, March 18, 2023. There will be three 90-minute Zoom calls, each with a similar format of a few opening comments from one of their International Vice Presidents or Regional Directors, followed by breakout groups where you can pray with Navigators from other countries. You may join any or all of these three calls:
Friday, March 17, from 7 – 8:30 pm MT
Saturday, March 18, from 8 – 9:30 am MT
Saturday, March 18, from 12 – 1:30 pm MT
For more information, contact Connie Ekberg at connie.ekberg@navigators.org
If you have not made plans to join for the Outcomes Conference 2023, weencourage you to come and learn from leaders like Mutua!
---

Come & Be Inspired! Discover what God has for you!
---


What is Christian Leadership Alliance?
Christian Leadership Alliance equips and unites leaders to transform the world for Christ. We are the leaders of Christ-centered organizations who are dedicated to faithful stewardship for greater kingdom impact.
Sign up for FREE blog updates.