Getting Major Gifts: Planned & Noncash Giving
Content Contributor: William High, CEO, National Christian Foundation, Heartland
Facilitator: Michael J. Brown - Associate Director, Philanthropic Service for Institutions (PSI)
Category: Resource Development
---
Last Day to Register: Mar 30, 2020
Module Start Date: Apr 06, 2020
---
Learning Objectives
Develop a basic understanding of what the Bible says about legacy, both related to material wealth and spiritual riches
Provide broad knowledge on planning instruments that enable people to maximize charitable giving from their estates while minimizing tax implications
Communicate accurate information to constituents for establishing wills, trusts and annuities
Articulate best practices regarding special circumstances associated with planned gifts
Develop a list of questions to ask planned giving candidates to ensure each visit positions the leader to best help the steward accomplish kingdom objectives through their estate
Module Overview
This module is designed to provide participants with an overview of getting major gifts through planned and noncash giving. Doing so requires unique skills and understanding of the major donor mindset, including what triggers major gifts and how to open the conversation. This module will examine how to best serve donors in maximizing their giving, while also reducing their taxes. Participants will learn about different planned giving instruments, such as wills, trusts and annuities. They will also learn best practices associated with a variety of topics: the triggers to major planned gifts, good advice to give business owners about the sale of their business and suggestions linked to the wealth transfer.
Requirements for Receiving Credit
Credit for the module will be determined on the following criteria:
Successful completion and submission of five Reflection assignments demonstrating that the student has read required reading and reviewed the presentations.
Engage in the topic forums for all five sessions.
Facilitator Bio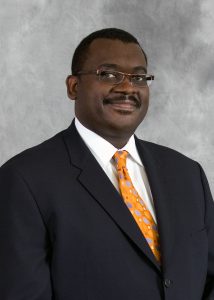 Michael J. Brown - Associate Director, Philanthropic Service for Institutions (PSI)
Michael is passionate about helping organizations attract donors desirous of partnering to serve community needs.  He enjoys a 25-year career in marketing, fundraising, and door research.  After a decade of leadership in Fortune and Global companies, he launched his career in the nonprofit sector as Senior Vice President of Client Services for one of the largest fundraising agencies in the country.  He has led consulting engagements serving clients like Wycliffe Bible Translators, Northwestern Radio, Moody Bible Institute, and Feeding America.  For the past four years, he has been serving the fundraising training and consulting needs of Seventh-day Adventist institutions including those in the healthcare, education, and humanitarian relief sectors. He remains president and owner of a boutique consulting firm—Targeted Insights, LLC—and is pursuing a Ph.D. in Leadership at Andrews University.  Michael loves the Lord, spending time with his wife and children, and teaching youth to apply the Word of God.