Strategies for Acquiring and Retaining Talent
Content Contributor: Cathie Cowie and Rhonda Kline, Owners/Principals, Alston-Kline, Inc.
Facilitator: Joelle Peelgren - Founder/Principal, DeGenaro Peelgren Associates
Category: People Management & Care
---
Last Day to Register: Sep 20, 2021
Module Start Date: Sep 27, 2021
---
Learning Objectives
Greater understanding on how to build HR organizational competency in talent acquisition and retention strategies
Knowledge in cutting edge approaches to talent sourcing, leading to creation of deep and wide talent pools in the changing labor market
A clarified understanding of the talent acquisition lifecycle process
Insights in how to leverage a total compensation philosophy and reward system to encourage people to engage and thrive
Greater confidence in communicating to new employees their lifetime value and mutual responsibility to continued intentional growth and development
Module Overview
This module will equip you to strategically acquire and retain the talented people your nonprofit organization needs. It will help you to develop and maintain a defined talent acquisition lifecycle process. It will explore talent sourcing in today's dramatically changing labor market, and how to recruit across generations and disciplinary backgrounds. Planning well is critical, and this module explores target planning that employs an aligned biblical framework for talent acquisition and targeting. It also examines critical HR issues like rewards, incentives and the importance of shared cultural values, as they are vital supports to employee performance and retention. Ultimately, a strong talent acquisition and retention program should result in high performance and continuous improvement throughout the organization.
Requirements for Receiving Credit
Credit for the module will be determined on the following criteria:
Successful completion and submission of five Reflection assignments demonstrating that the participant has read required resources and reviewed the presentation content.
Engage in all topic forum discussions for all five sessions.
Facilitator Bio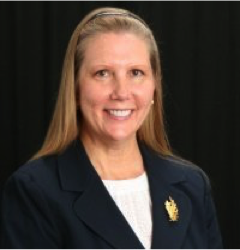 Joelle Peelgren - Founder/Principal, DeGenaro Peelgren Associates
Joelle Peelgren's entire professional career has been dedicated to faith-based, not-for-profit organizations, serving 16 years with World Vision US and 16 years with English Language Institute/China. Her Masters work in Human Resource Leadership and Organizational Development from Azusa Pacific University has provided Joelle with a strong understanding – both operationally and theoretically – in areas of organizational development, adult learning, and human resources. DeGenaro Peelgren Associates: Seven years ago, Jim and Joelle co-founded DeGenaro Peelgren Associates to provide consulting services to organizations – small and large – in the areas of organizational development, technology assessment and management, change management, interim executive positions, and human resources