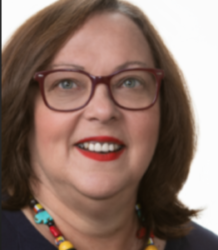 Laurie Dingeldein
Finance (Business)
Laurie Dingeldein serves as the CFO of ABWE Inc, ABWE Foundation and ABWE International.  ABWE is a mission sending organization with 1300 workers in 84 countries around the globe.
The Lord led her to ABWE after helping operate a family business for 18 years. While Laurie began in the donor services area, she has held many roles in the financial department at ABWE and currently oversees the human resources, legal and all financial areas of ABWE.
After receiving her CPA license, Laurie spent time working for Ernst and Young and VF Corporation—the largest publicly-held clothing company in the United States at that time.
She is a native of South-Central PA and has never lived more than a few hours from her hometown of Robesonia, PA. She attended Bloomsburg University of PA and studied both Accounting and Music.
Laurie is married to Russ, who serves as the Corporate Chef at ABWE, and they have three daughters.