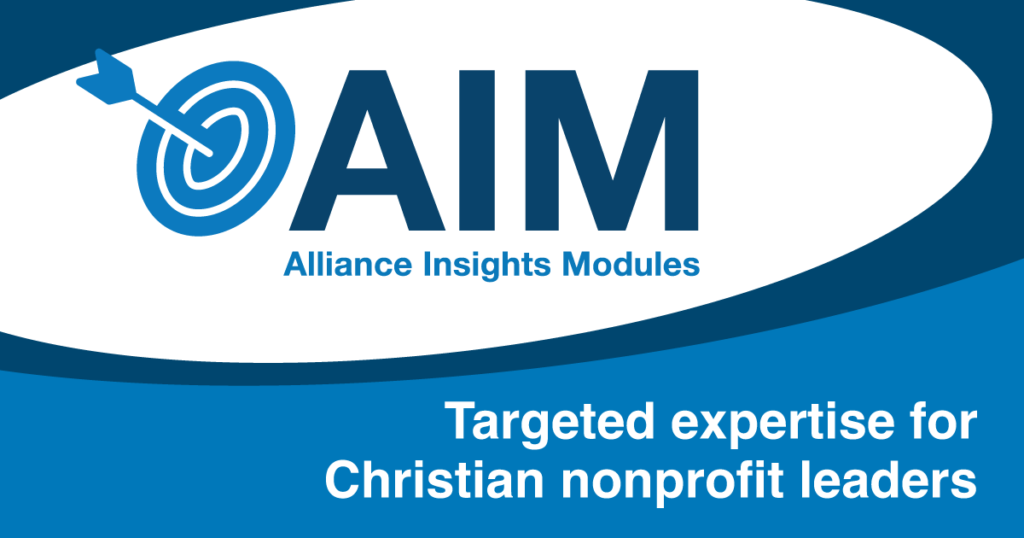 Christian Leadership Alliance Presents
AIM: Alliance Insights Modules
These monthly digital Alliance Insights Modules (AIM) allow you to experience and apply cutting-edge thought leadership targeted to your organizational and leadership development needs as a Christian nonprofit leader.
The content for these modules is gleaned from previous Alliance digital workshops, webcasts, podcasts, presentations, articles, and posts. Each module is expertly crafted around a targeted theme critical for leading Christian nonprofits today. These modules facilitate the immediate application of these concepts through an individualized AIM action plan.
These dynamic digital modules will equip you and your team in critical areas of Christian nonprofit leadership, from donor development to caring for employees, to stewarding your soul as a leader, and so much more!
Each AIM: Alliance Insights Module offers you:
INSIGHTFUL THOUGHT LEADER VIDEOS: Each AIM module contains four Alliance video workshops/webcasts/presentations centered on one core learning track and topic. These videos capture the best sessions from the Alliance's Global Digital Experiences, Webcasts, or Outcomes Conferences.
INSIGHTFUL THOUGHT LEADER ARTICLES: Each AIM module contains four Alliance articles centered on the same core learning track and topic as videos.
INSIGHTS APPLICATION: Each AIM module contains an application section with key questions drawn from the module and an opportunity to reflect on its content.
DISCUSSION: Comment on insights gleaned from each AIM segment, and see comments from your peers.
YOUR CUSTOM DEVELOPMENT ACTION PLAN: Each module concludes with the opportunity to take what you have learned and build an on-target action plan to meet your nonprofit's needs.
AIM Release Schedule
A new AIM: Alliance Insight Module will be released each month starting in October 2023. You will find the schedule listed below, so you will have at least a 30-day notice of what is coming next. A module may be purchased 30 days before launch and anytime after it is officially released.
AIM Enrollment Details
Registration links will be provided from here and inside the Outcomes Academy Online Catalog. Registration will open the month before the module goes live. Once you enroll, access remains open as long as your CLA membership is active.
$97 – Alliance Members
$297 – Alliance Non-members*
Downloadable certificates will be available once a module is completed.
If you are NOT currently a member of Christian Leadership Alliance and would like to enroll in modules, please get in touch with CLA@christianleadershipalliance.org to secure nonmember access to registration. We recommend you join the Christian Leadership Alliance. Individual membership is only $149, so it offers significant savings on these courses and many other exciting benefits and discounts. Learn more and join the Alliance here.
2023 Release Schedule

Digital Donor Development and Fundraising Insights
Launching October 1, 2023
Category: Resource Development
Insights: Discover perspectives on digital fundraising and digital donor development. In "Digital Donor Development and Fundraising Insights," you will gain insights to enhance your digital fundraising success. This module offers ways to "future-proof" your fundraising through innovations that help donors give. You will explore leading-edge thinking on "digital donor development" and examine keys to "digital fundraising growth." Learn how to create urgency in your digital campaigns and ways to build a culture that embraces digital innovation.
Featured Thought Leaders: (*Organization at the time of recording/article)
Amy Sewell, Douglas Shaw & Associates
Jon Lee, /LERMA
Tim Kachuriak, NextAfter
Josh Kashorek, FiveQ
Jeremy Reis, CRISTA
Tracy Nordyke, MissionIncrease
Caleb Crider, MissionIncrease
Jason Wood, Douglas Shaw & Associates
OPEN FOR REGISTRATION
3R's: Recruiting, Recognizing, and Retaining Employees
Launching November 1, 2023
Category: People Care and Management
Insights: Learn the keys to finding, evaluating, and keeping the right team members. In "3Rs: Recruiting, Recognizing and Retaining Employees," HR leaders share insights on finding, assessing, and keeping the right team members. The right team members are vital for propelling your organization's success. This module will teach you to measure soft skills to hire well. You will hear creative ideas for onboarding new hires well. Frontline search firm leaders also offer ideas on finding and keeping talent to fill your key leadership seats.
Featured Thought Leaders: (*Organization at the time of recording/article)
William Vanderbloemen, Vanderbloemen Search Group
Brooke Hodnefield, Slingshot Group
Neal Joseph, Mission: Leadership
Evalerie L'Heureux, Joni and Friends
Giselle Jenkins, Best Christian Workplaces
Joelle Peelgren, DeGenaro Peelgren Associates
Chad Carter, Mission: Leadership
Zándra Bishop, Coach | Trainer | Speaker (previously with FaithSearch Partners)
OPEN FOR REGISTRATION ON OCTOBER 1, 2023
Caring for Your Soul as a Leader
Launching December 1, 2023
Category: Personal Leadership
Insights: Understand the essentials of soul care that will restore busy leaders and help them thrive. In "Caring for Your Soul as a Leader," you'll get timely insights on restoring your soul. It is designed to help you to thrive. We lead in hectic times and need "Inside-Out Leadership" that moves us from surviving to thriving. This module explores the importance of resilience and ways to recharge your soul. It will help you embrace being beloved by God. This module will encourage you to be deeply rooted in your relationship with your heavenly Father.
Featured Thought Leaders: (*Organization at the time of recording/article)
Margaret Fitzwater (with Roy Fitzwater), The Navigators
Vernicia Eure, Assist Pregnancy Center
Steve Smith, Potters Inn
Jedd Medefind, Christian Alliance for Orphans
Dr. Eugene Habecker, Taylor University (Pres. Emeritus)
Season Bowers, Pastor, Author, and Speaker
Vernicia Eure, Assist Pregnancy Center
Dr. Kirk D. Mallette, York College (Retired)
OPEN FOR REGISTRATION ON NOVEMBER 1, 2023