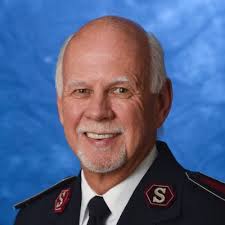 Commissioner David Hudson has been an officer in The Salvation Army for 42 years, is currently serving as the USA National Commander, located in Alexandria, Virginia.
Prior to coming to Alexandria in November 2015, Hudson was the Chief Secretary for the USA Western Territory based in Long Beach, California. He has a wide range of experience as a Salvation Army officer, including Territorial Secretary for Personnel, Divisional Commander for the Hawaiian and Pacific Islands Division, which include Hawaii, the Republic of the Marshall Islands, the Federated States of Micronesia and Guam; Divisional Secretary in San Diego California; and Divisional Youth and Candidates' Secretary in the Southwest Division. He was a corps officers for 14 years in appointments that included Oregon, Idaho and Southern California.
Hudson has a Bachelor's Degree in Business Management and a Master of Science in Leadership.
Dave has been married to Sharron for 41 years and they have two daughters, Jennifer and Amy, as well as two wonderful grandchildren. His personal interests include reading, running, and hiking. Spending time with family and close friends is his favorite thing to do.
Personal mission statement: To be a fully committed follower of Jesus, I must be a loving servant to my wife, a godly dad to my daughters, and a conscientious worker in both my ministry and in my pursuit for wholeness.