Exchanging Pride for Humility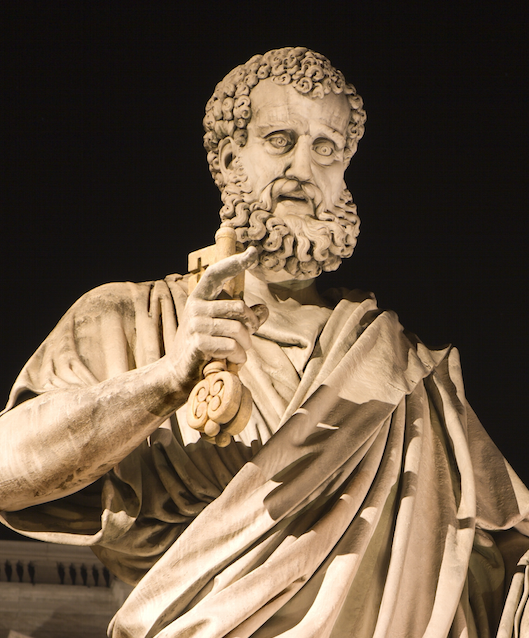 Personally I think Peter gets a bad rap. Many of us are too quick to judge Peter, who is famously remembered for denying Jesus three times. Our self-righteousness gets the better of us, and whether we admit it or not, we're tempted to believe that in his shoes, we never would have denied Jesus. Jesus predicted that.
Peter would deny him three times, but Jesus previously made another very powerful prediction. He said that Peter (whose name means "rock") would be the rock upon which Christ's church would be built (Matt. 16:18). Both of Jesus' predictions came true, and I believe one made way for the other.
Peter's greater legacy—his clout—is that he did indeed become instrumental in developing the early church. In his early years, Peter's pride walked hand in hand with his faith. The desire to wholeheartedly follow God was at war with prideful longings for perfection, importance, performance, and independence. His faith and his failure coexisted. Isn't that how it is for most of us?
When the rooster crowed, the trajectory of Peter's influence was radically altered. He immediately remembered Jesus' words, and Scripture tells us he "wept bitterly" (Matt. 26:75). (91) I'm picturing a heartbreaking, gut-wrenching, fall-to-his-knees cry. Peter was broken. God had gotten his attention, and he recognized how significantly pride had impacted his influence and broken the heart of Christ. At that moment, I believe Peter made his replacement. He exchanged pride for humility, and after that, his influence flourished.
I see Peter's face when I read this description from Parker Palmer: "The path to humility, for some of us at least, goes through humiliation, where we are brought low, rendered powerless, stripped of pretenses and defenses, and left feeling fraudulent, empty, and useless—a humiliation that allows us to regrow our lives from the ground up, from the humus of common ground." 1
Has the rooster crowed in your life? Have you encountered a season that humbled you so deeply that you recognized your need to permanently replace pride with a heart of humility?
Proverbs 11:2 speaks of the effects of pride and humility: "When pride comes, then comes disgrace, / but with humility comes wisdom." Too many leaders have been marked by disgrace. Even if they were able to replace their pride and move forward with humility, such as Peter did, their legacies still tell the story of pride.
To avoid the rooster of disgrace, we must continually look for ways to replace pride with humility.
Parker J. Palmer, Let Your Life Speak (San Francisco: Jossey-Bass, 2000), 70.
##
Jenni Catron is the author of Clout: Discover and Unleash your God-Given Influence (Thomas Nelson 2013) and this is an except from it.  Jenni most recently served as the Executive Director of Cross Point Church, a multi-state church in Nashville, Tennessee.  She blogs at www.JenniCatron.tv and contributes to a number of other online publications.
Strengthen your leadership influence and clout. Enroll in the CLA Online Academy (sponsored by ECFA and powered by Azusa Pacific University College. www.ChristianLeadershipAlliance.org/Academy

What is Christian Leadership Alliance?
Christian Leadership Alliance equips and unites leaders to transform the world for Christ. We are the leaders of Christ-centered organizations who are dedicated to faithful stewardship for greater kingdom impact.
Sign up for FREE blog updates.