The Role of Board Members in Advancement

A Kingdom Path Perspective
Christian ministry boards generally provide missional oversight, strategic governance, and fiscal accountability for the organizations they serve. Most are often comprised of committees. The committee tapped with ensuring adequate resources is often called the advancement or development committee. This committee tends to address its governance goals along one of two predictable paths, the common path or the kingdom path.
Since the release of The Choice: The Christ-Centered Pursuit of Kingdom Outcomes, which I co-authored with R. Scott Rodin and Wesley K. Willmer, people have been asking about how the teaching in that book relates to facets of leadership and governance, so today's post seeks to address the role of board members in advancement.
Along the common path, the advancement role of board members is summed with this phrase: "Give, get others to give, or get off." Though I embraced this thinking for years, I have learned it has a fundamental flaw. It reveals "the love of money" exists as an underlying belief (cf. 1 Timothy 3:3) and having this trait actually disqualifies us from Christian leadership (though it may be praised in the world).
On the common path, money is viewed as the answer to all problems (cf. Solomon warned us of this in Ecclesiastes 10:19). This explains why acquiring money becomes the focus of stewardship, stockpiling it reflects the plan for sustainability, and why many constituents proclaim that all we want is money. I believe these symptoms can be traced to the sin of the love of money (cf. 1 Timothy 6:10), which is why ministry devolves to chasing after money. So what does the kingdom path look like?
In an effort to echo the simplicity of the former phrase, since the engagement of the redeemed in God's work is repeatedly depicted as "participation in the gospel" in the New Testament (cf. Philippians 1:3-5, et al), the advancement role of board members along the kingdom path would be re-written:
"Pray, personally engage, and instruct others to participate."
For example, in Luke 9:1-6 and 10:1-12 when Jesus sent the 12 and then the 72 out on mission to proclaim the good news of the kingdom, heal the sick, and drive out demons, He told them to pray for God to raise up laborers to engage with them in God's work and was clear in His instructions about what participation looked like. It was certainly not fueled by money! Only later in Luke 22:35-38 did Jesus clarify what to do with money God provides: put it to work on mission, and it will be a battle! Likewise, Christian leaders in the early church called for prayer, personal engagement, and gave instructions linked to participation in the gospel.
But what does this look like today?
Linked to prayer, board members may mark their calendar to pray daily, to encourage others to pray by sharing requests with them, and/or they may facilitate prayer walks, days of prayer and fasting, or other prayer-related initiatives. Because board members believe that ministry battles are not against flesh and blood (Ephesians 6:10-20) and that apart from God they can do nothing (John 15:5), they put on the armor of God together as prayer warriors. This may also mean that they annually audit or assess the organization's prayer rhythms to ensure that God, not money, is the One everyone depends on to make ministry happen.
Board members also personally engage by putting to work the gifts and goods entrusted to them as stewards. This relates to their personal giving and service, which will be unique for each person, but since board members are in leadership, they must model sacrificial giving celebrated by Jesus (cf. Mark 12:41-44) and humble service using their gifts and talents taking the posture Jesus called His disciples to take (cf. Luke 22:24-27).
Instructing others to participate in mission is bigger than getting a friend to make a gift. In 2 Corinthians 12:14a, Paul said to the Christians in Corinth, "what I want is not your possessions but you." In that sense, it's not what they want from them, but what they want for them: the joy of participating with God in His work. For example, board members may open doors to individuals as well as church, denomination, or foundation leaders that may represent great ministry connections. They may host receptions in their homes or clubs, share expertise, and even review policies like gift acceptance or accounting to ensure their faithful administration (cf. 2 Corinthians 8:20-21).
Why must board members pray, personally engage and instruct others to participate?
When boards lead this way, they ensure that God, not money, stays at the center as the driving force of ministry. When they govern from this perspective they also remind stewards to engage in God's work with the gifts and goods entrusted to them from God, while showing God's people what participation looks like. As the Spirit guides each steward, ministry will grow as God moves. Might it be time to review the role of board members related to advancement where you serve?
###
Gary G. Hoag, Ph.D., provides spiritual and strategic counsel for leaders for encouraging Christian generosity. To receive his daily Meditations, visit www.generositymonk.com or email him at gary.hoag@generositymonk.com. To purchase The Choice: The Christ-Centered Pursuit of Kingdom Outcomes by Gary G. Hoag, R. Scott Rodin, Wesley K. Willmer, visit www.ecfa.org/ECFAPress.aspx or www.amazon.com.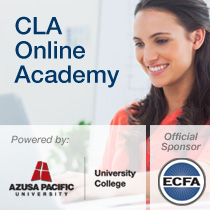 If you want to go deeper in your understanding of Board Governance, Resource Development, and Executive Leadership, consider enrolling in the CLA Online Academy. This fall the following modules are being offered:
Board Governance
CCNL
Executive Leadership
Resource Development

What is Christian Leadership Alliance?
Christian Leadership Alliance equips and unites leaders to transform the world for Christ. We are the leaders of Christ-centered organizations who are dedicated to faithful stewardship for greater kingdom impact.
Sign up for FREE blog updates.