A Night of Worship and MORE
https://www.youtube.com/watch?v=fCR93GIRMGU%20
A Night of Worship and Praise

This comes as an invitation for all Christian ministry leaders in the Dallas area and any other leaders who want to make their way to Dallas.
Christian Leadership Alliance  (CLA) is holding its annual leadership training event, The Outcomes Conference on April 4 -6, 2017.  On Wednesday evening, leaders will gather for an evening of worship and praise to God. You are invited to attend this special time with us.
You will be blessed by Christian music artists Brooke and Boggs as they lead us in song. The staff at CLA prays this video of one of their newest releases, Grace Upon Grace encourages you today! CLA is honored to have Dr. Crawford Loritts, Senior Pastor of Fellowship Bible Church in Roswell, GA sharing a message from God's Word.
You don't need to be attending the conference or a member of CLA to come.  There is no charge for this evening. All we ask is that you let us know you are coming!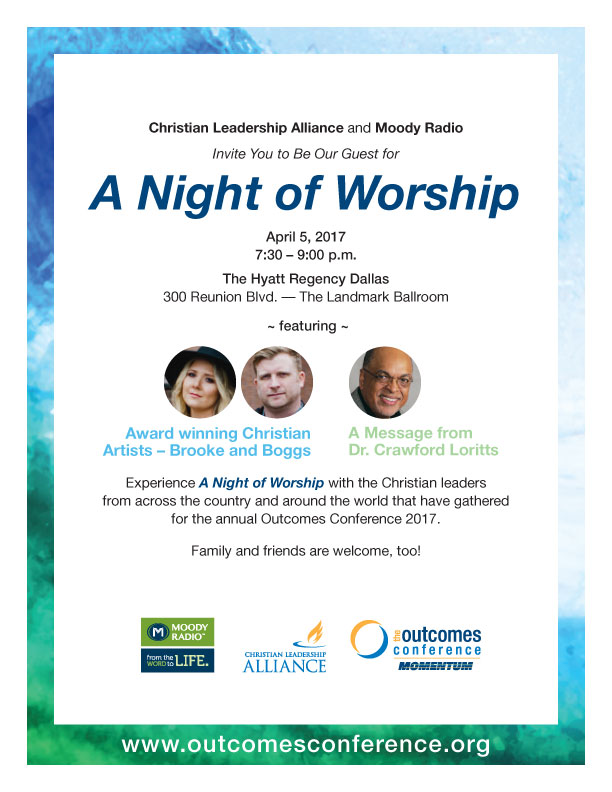 Official Sponsor of A Night of Worship
Now if you would like to attend The Outcomes Conference 2017, you can still do so! During this three-day event, Christian leaders  encounter thought leadership, innovative ideas and many opportunities to collaborate with other Christian leaders. Below is sample of what is planned for 2017.
Learn
Challenge your current thinking during highly interactive training sessions, loaded with proven best practices.
Select your path:
Refresh
Experience spiritual inspiration, personal encouragement, and the Power that comes with renewed purpose.
Center your heart:
Morning Devotions
On-site Prayer Room
Connect
Network the a world-changing community of leaders, who share  your faith, values and Kingdom call.
Expand you network:
This CLA annual event is designed to equip and unite Christian leaders like you. Local and can't be out of the office for three days? We have one-day options. Simply contact Heather.Martin@christianleadershipalliance.org or visit us on site at the Hyatt Regency Dallas. On-site Registration opens on Monday, April 3, 2017 at 3:00 PM.
Learn more and register by visiting www.OutcomesConference.org.

What is Christian Leadership Alliance?
Christian Leadership Alliance equips and unites leaders to transform the world for Christ. We are the leaders of Christ-centered organizations who are dedicated to faithful stewardship for greater kingdom impact.
Sign up for FREE blog updates.