CLA Member Spotlight: Best Christian Workplaces Institute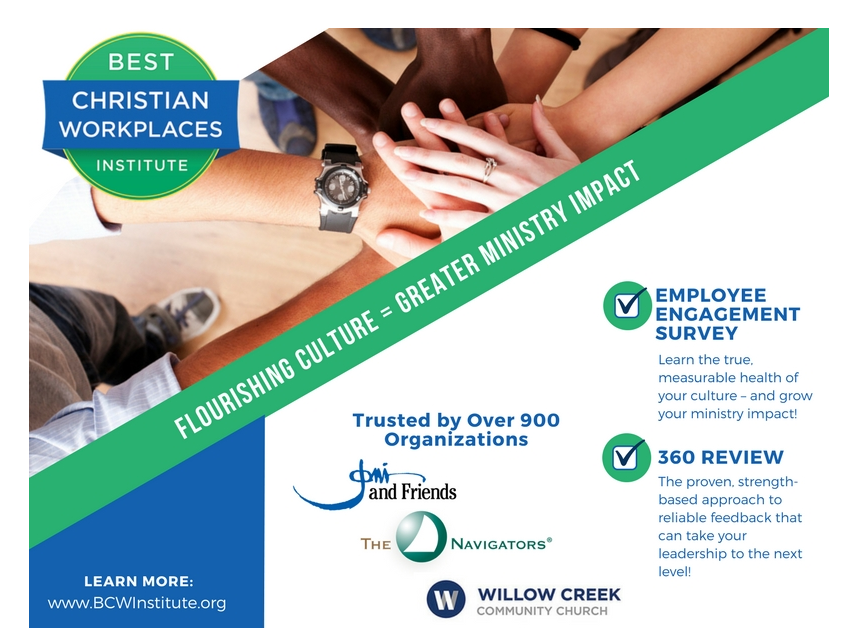 Christian Leadership Alliance Founder's Council Member: Best Christian Workplaces Institute
Trusted by over 900 ministry organizations, churches, and Christian-owned businesses since 2002, Best Christian Workplaces Institute (BCWI) helps its ministry clients create healthy, flourishing workplaces that lead to increased ministry effectiveness.
As a result, a growing number of BCWI clients continue to live out the BCWI VISION of setting the standard as the best, most effective places to work in the world. The BCWI MISSION is to serve faith-based organizations by creating processes of discovery, facilitating organizational effectiveness, and encouraging practices that build flourishing workplaces.
BCWI achieves this through our Employee Engagement Survey, 360 Review, and action-planning consulting services.
BCWI's five core VALUES are:
Serving  clients with excellence
Reflecting Christian values in the world
Committing to life-long learning
Responding to ever-expanding opportunities
Expressing joy and purpose in our work.
To receive the free weekly, Flourishing Culture Podcast and blog, filled with practical insights and emerging culture trends, Christian Leadership Alliance encourages to you learn more. Go and Visit:
Al Lopus is the president and co-founder of Best Christian Workplaces Institute will be sharing in the Stewardship Roundtable on the first day of The Outcomes Conference 2018. Be sure to sign up for the Three-day Experience so you don't miss this important breakout! Early registration ends January 31, 2018.
Want to learn more Alliance membership? Click the image below!

What is Christian Leadership Alliance?
Christian Leadership Alliance equips and unites leaders to transform the world for Christ. We are the leaders of Christ-centered organizations who are dedicated to faithful stewardship for greater kingdom impact.
Sign up for FREE blog updates.