Christian Leadership Alliance Member Spotlight: ENVOY FINANCIAL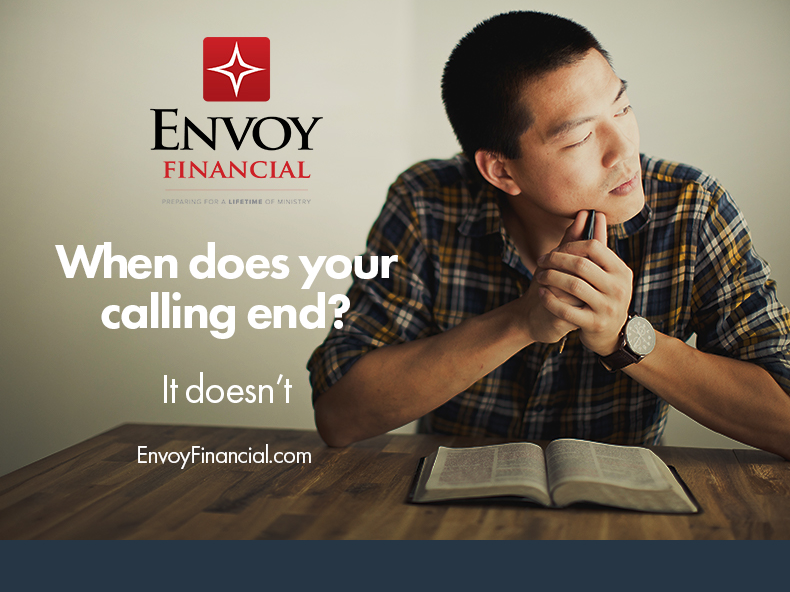 Christian Leadership Alliance Founder's Council Member: ENVOY FINANCIAL
For almost three decades, Envoy Financial has specialized in the unique retirement needs of churches, missionaries, and other faith-based organizations. Envoy offers cost-effective plans for both individuals and organizations so no one in ministry is unprepared for their future.
Envoy's open architecture platform allows access to over 25,000 investment products so that everyone can invest well. They also offer affordable plans for all sizes, simple administration that saves time and reduces stress, and easy enrollment and empowering education.
Envoy's calling to serve, love, and minister to others doesn't stop at age 65. Everyone has unique passions, abilities, and experiences that God wants to use in ALL seasons of life.
However, most people don't consider how they will fund their future ministry during the fourth quarter of their lives. Envoy exists to enable all Christians to fund their future ministry. From individuals to entire denominations, Envoy provides easy, affordable, and high-impact retirement plans.
Christian Leadership Alliance encourages you to explore how Envoy Financial is able to serve you!
Bruce Bruisma, Founder and CEO will be serving as faculty as The Outcomes Conference 2018. Check out his session, How to Start Funding the Future God is Calling You to. And you will want to visit their booth in the Exhibit Hall, too!
Now is the time to register for The Outcome Conference 2018, this one-of-a-kind leadership training event is designed specifically for nonprofit leaders and their teams.
Alliance members who register four people, earn a fifth registration free!
Want to learn more Christian Leadership Alliance membership? Click the image below!

What is Christian Leadership Alliance?
Christian Leadership Alliance equips and unites leaders to transform the world for Christ. We are the leaders of Christ-centered organizations who are dedicated to faithful stewardship for greater kingdom impact.
Sign up for FREE blog updates.