Christian Leadership Alliance Member Spotlight: BMWL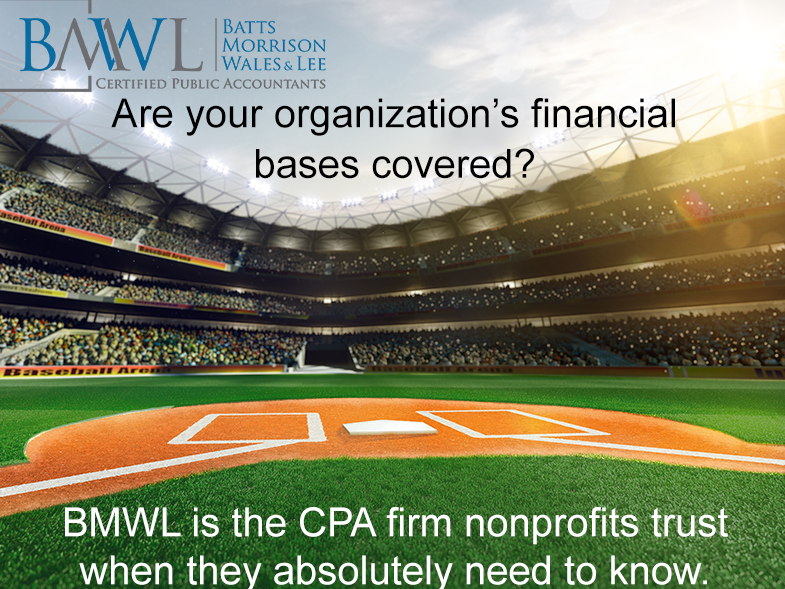 Christian Leadership Alliance Founder's Council Member:
Batts Morrison Wales & Lee (BMWL)
Batts Morrison Wales & Lee is a national CPA firm exclusively serving Christian ministries and other nonprofit organizations and their affiliates across the United States.Offering unparalleled audit and assurance, tax, and strategic advisory services.
BMWL helps nonprofit organizations maintain strong donor trust and confidence. They produce highly effective financial reports, strengthen internal controls and financial oversight, improve financial condition. If you also want to improve overall risk management, maximize tax exemptions, protect exempt status, and simply financial administration, they are ready to serve you.
BMWL also provides its clients board member governance orientation and training.
Christian Leadership Alliance recommends the service of Batts Morrison Wales & Lee.
The Outcomes Conference 2018 is quickly approaching. If you are a nonprofit leader we hope you will come and join us on April 17-19 in Dallas, Texas.
Christian Leadership Alliance is pleased to have the leadership of Batts Morrison Wales & Lee are among the Outcomes faculty for 2018.  Here are the sessions they will be leading at this year's event.
The CEO Forum:  Partner and National Direct of Tax Service, Michael Batts will be a key presenter in this full-day intensive.
Full Day Intensive – Basics of Federal Tax Compliance:
Julie James, Partner and Director of Tax Compliance Services – Batts Morrison Wales & Lee, PA
Kaylyn Varnum, Manager – Batts Morrison Wales & Lee, PA
Michele Wales, Partner and National Director of Tax Services – Batts Morrison Wales & Lee, PA
Mike Batts, Managing Partner – Batts Morrison Wales & Lee, PA

The Alliance is where you will find professional development, a collaborative community and the inspiration you need to operate your organization with operational excellence.
If you want to learn more about belonging to the Alliance then we encourage you check out the details of membership HERE. 

What is Christian Leadership Alliance?
Christian Leadership Alliance equips and unites leaders to transform the world for Christ. We are the leaders of Christ-centered organizations who are dedicated to faithful stewardship for greater kingdom impact.
Sign up for FREE blog updates.