God's Desire? By Mart Green

What does God desire for us to do with what we have?
God's desire? A short answer to this question would be that we should invest our earnings in three ways: giving, saving, and spending. How we allocate to these three buckets will be completely based on our heart — the choice is left to us.
Many people today spend all the money they have. Some spend even more than they have. This results in high levels of debt and slavery to lenders (see Proverbs 22:7). This also means there is little, if any, left for giving or saving.
Saving, in plain terms, is living on less than we have earned. Some choose to take that surplus and save it up on earth for themselves rather than store it up in heaven. But Jesus said,
"For where your treasure is, there your heart will be also" (Matthew 6:21).
From all indications, how we spend money is not what is addressed in this Scripture, but rather why we spend money the way we do.
In essence, God gives us the freedom to spend the money we have earned in whatever way we desire. I believe the passion of our heart determines where our money goes. Basically, our money follows where our heart leads.
Who wants a gift that was involuntary or forced? The best gifts are those given out of a heart of love (see 2 Corinthians 9:7). What the Lord wants is not our money, but our hearts, our love!
The more we love the Lord and understand the opportunity God gives us to invest in eternal treasure, the more our money will flow into investing in God's kingdom.
The verses preceding Matthew 6:21 say,
"Do not store up for yourselves treasures on earth, where moths and vermin destroy, and where thieves break in and steal. But store up for yourselves treasures in heaven, where moths and vermin do not destroy, and where thieves do not break in and steal" (Matthew 6:19-20).
Randy Alcorn addresses the underlying idea of these verses with this statement in his book, The Treasure Principle.
"You can't take it [your earnings] with you — but you can send it on ahead." Return on that investment is incalculable, and it lasts forever!
The words of Jesus seem to emphasize this point when He says,
"And everyone who has left houses or brothers or sisters or father or mother or wife or children or fields for my sake will receive a hundred times as much and will inherit eternal life" (Matthew 19:29).
As Randy Alcorn states in The Law of Rewards, I have further concluded, "
Christ's primary argument against amassing material wealth isn't that it's morally wrong but simply that it's a poor investment."
This world is a foolish location to place our hope and future!
So then, what does God desire for us to do with what we have? It seems that He has given us the freedom to choose how to spend our earnings, while also pointing the way. But He never forces us to go there.
How we spend our earnings gives a clear reflection of our heart. The more we understand the Lord's love for us, the more we want to show Him our love with our earnings as well as our time and talent.
Again, we can and should invest our earnings in three ways: giving, saving, and spending. How we allocate to these three buckets will be completely based on our heart — both as we discern how He wants us to allocate and as we recognize the eternal implications of these decisions.
As our heart for God grows, we allocate more to the things He cares about, and we can expect more joy now and in eternity.
Our faith establishes our eternal destination. Our behavior, including how we spend our earnings, determines the eternal rewards we can anticipate when we get there. Let us show our desire for God in the way we handle that which we have earned.
####
Mart Green is the Ministry Investment Officer for Hobby Lobby and is the founder of Mardel Christian and Education Supply stores. His retail career began with his parents, who founded Hobby Lobby in their home, they now have over 800 stores in 47 states. He is also a leading champion of illumiNations, a collective impact alliance, working to eradicate Bible poverty by 2033.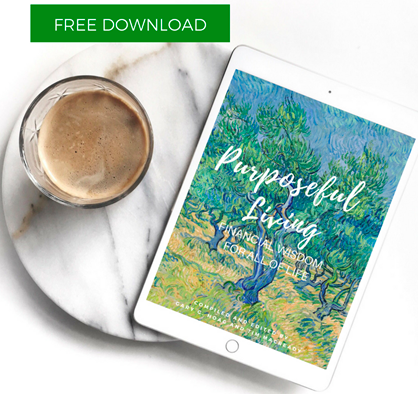 This post is an excerpt from the e-book, Purposeful Living: Financial Wisdom for All of Life.
As a gift from ChristianSuper,  you may  DOWNLOAD the entire e-book for FREE.


What is Christian Leadership Alliance?
Christian Leadership Alliance equips and unites leaders to transform the world for Christ. We are the leaders of Christ-centered organizations who are dedicated to faithful stewardship for greater kingdom impact.
Sign up for FREE blog updates.