Moses: Unselfish Leadership By Paul Swamidass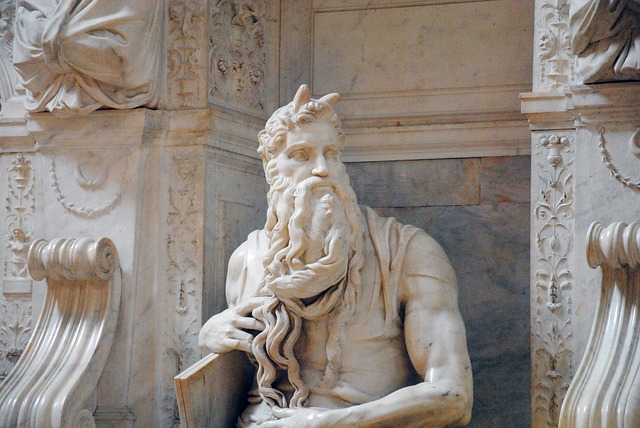 Moses, the most unselfish leader and example.
There was a tragic moment when Moses was conversing with God on Mount Sinai (Exodus 32). Moses was unaware that his brother and partner Aaron was enabling the worship of a freshly-cast golden calf at the foot of the mountain in defiance of God. God saw what transpired at the foot of the mountain, and He was angry.
God interrupted his conversation with Moses:
"I have seen these people," the Lord said to Moses, "and they are a stiff-necked people. Now leave me alone so that my anger may burn against them and that I may destroy them. Then I will make you into a great nation" (Exodus 32: 9-10; NIV).
Note the little-known but profound promise to Moses that God offers without Moses asking for it; it is the exact same promise God made to only one other person, Abraham in Genesis, "I will make you a great nation" (Gen. 12:2). Out of this promise to Abraham was born the Nation of Israel.
Moses Defends the People

When God had decided to destroy the idol-worshipping Nation of Israel at the foot of the mountain, Moses, sensed a tragedy of immense proportions. As an unselfish leader and protector of those entrusted to him, he replied to God:
"Why should your anger burn against your people, whom you brought out of Egypt with great power and a mighty hand? Why should the Egyptians say, 'It was with evil intent that he brought them out, to kill them in the mountains and to wipe them off the face of the earth'? Turn from your fierce anger; relent and do not bring disaster on your people. Remember your servants Abraham, Isaac and Israel, to whom you swore by your own self: 'I will make your descendants as numerous as the stars in the sky and I will give your descendants all this land I promised them, and it will be their inheritance forever.'" Then the Lord relented and did not bring on his people the disaster he had threatened. (Exodus 32: 11-14).
Moses' response reveals to me why God appeared to him at the "bush" and asked him to take the job of leading his people out of Egyptian slavery. During the bush encounter, God would not accept any of Moses' excuses for refusing his assignment.
Tragedy Averted
As an unselfish leader, Moses accomplishes remarkable outcomes at this historic moment; they were:
He did not give up on the people he was leading. It is extremely significant that he did not say, "Yes, Lord. These unruly and difficult people are impossible to lead. They deserve anything and everything you want to throw at them. Give it to them!"
He unselfishly brushed aside God's promise to make him a great nation (the "Nation of Moses," so to speak) at the expense of the Nation of Israel. Note, He did not say, "Thank you for the promise to make me a great nation. After all that I did to confront the powerful Pharaoh in Egypt, and to lead this unruly people out of Egypt, I deserve this honor as much as Abraham did."
His direct appeal to God for the welfare of the people helped change God's decision to destroy the Nation of Israel ("the Lord relented" Exodus 32: 14),
The tone of his above appeal to God shows assurance and a degree of boldness because it was a truly selfless appeal,
He was loyal to the people, whose care was entrusted to him at the "Bush,"
Although, at the "Bush," Moses was reluctant to take on the task of bringing the Nation of Israel out of Egypt, once he took on the responsibility to be their leader, he unselfishly became their willing defender, protector and savior.
An Example for All of Us

Moses has set a very high bar for all leaders. Moses also demonstrated that unselfish leadership brings about remarkable outcomes; he was able to change God's decision and save lives.
As a mark of ultimate divine recognition of Moses, the Bible records that God attested to the fact that Moses was "faithful in all my house" (Num 12: 7), implying, he was the most faithful in God's sight. His faithfulness to the people entrusted to his care was inseparable from his faithfulness to God.
A call to "Lead like Moses" is a tall order.
####
Paul Swamidass, Ph.D. is Professor Emeritus, Harbert College of Business, Auburn University, Auburn, AL, USA. He retired from Auburn University in 2016 after teaching there for 24 years. He was an industrial manager with an engineering degree before graduate education in business administration and a university career as a faculty member lasting 33 years.
Will you follow the Leader?

Enroll in the Outcomes Leadership Core and register for The Outcomes Conference 2019.  At the conference this year you can complete the first pathway, IDENTITY by attending the full-day Intensive. DISCover the Leader God Made You to Be!
This session designed to help participants discover their unique behavioral style by utilizing the biblical DISC assessment and application guide. This Assessment correlates behavioral styles to biblical characters and reveals how God utilizes your strengths to become the leader he created you to be.
Outcomes:
Develop accurate self-awareness (a key indicator of leader's success potential)
Discern how to resolve workplace conflicts and interpersonal challenges
Develop strategies to increase team effectiveness and drive results
Rich Meiss, Director, Leadership Development, Lead Like Jesus

What is Christian Leadership Alliance?
Christian Leadership Alliance equips and unites leaders to transform the world for Christ. We are the leaders of Christ-centered organizations who are dedicated to faithful stewardship for greater kingdom impact.
Sign up for FREE blog updates.