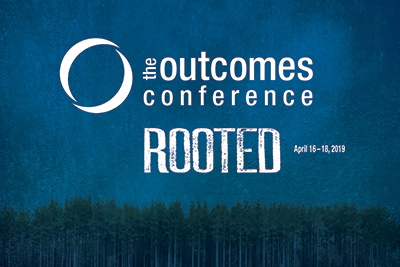 Rooted and Built Up in Him
As you therefore have received Christ Jesus the Lord, so walk in Him, rooted and built up in Him, and established in the faith, as you have been taught, abounding in it with thanksgiving. (Colossians 2:6-7)
To excel as Christian leaders in today's complex world, we must be both deeply rooted in Christ and strongly connected so that "we may spur one another on toward love and good deeds." (Heb. 10:24).
That's why the theme for The Outcomes Conference 2019 is "ROOTED."
This year Christian Leadership Alliance has something very especial planned to kick off  day one of the the Three-day Experience.
 Leadership Lab Intensive
On Tuesday, April 16, you'll experience a NEW "Leadership Lab Intensive" featuring nine short and dynamic keynote talks, and 18 information-packed Leadership Lab afternoon workshops. That entire day is focused on your development as a Christian leader! This is an incredible experience to share with your staff and emerging leaders within your organization.  Shared experiences will always increase accountability and the implementation of new ideas
This dynamic Leadership Lab — Intensive will offer big ideas for Christian leaders like you. This full-day experience features some of today's most innovative Christian leadership thinkers, and will explore a wide spectrum of topics related to being rooted as Christian leaders today. We'll examine vital trends, creative challenges and unique opportunities of our time. And we'll do it all through a biblical lens, considering how Christ wants us to lead while being "Rooted" in Christ and linked to one another.
This Leadership Lab — Intensive will be broken into two sections:
Leadership Lab — General Session Talks, 9:00 a.m. – 12:00 p.m.
Leadership Lab — Workshops, 1:30 p.m. – 5:00 p.m.
Leadership Lab – General Session Talks
The morning session will feature 15-minute, main stage big impact idea presentations by nine frontline Christian leaders that could change the way you think about your leadership and your organization today. This dynamic general session will provide some of today's most innovative thinking related to Christian nonprofit leadership. You will also have space and opportunity to discuss at round tables the ideas you've heard, and how they impact your organization.
Outcomes:
Gain insight on the big ideas across the spectrum of Christian nonprofit leadership,
Examine your organization relative to those big ideas, and
Apply new ideas to strengthen your leadership and the success of your organization. *Each presenter will also lead a Tuesday afternoon workshop on their topic.
Leadership Lab – Idea Generation Workshops
Participants will choose from nine workshops. Each main stage presenter who offered a Leadership Lab — General Session Talk will lead/co-lead an afternoon "idea generation" workshop that explores more deeply the topic he or she discussed during the morning Leadership Lab — General Session Talk.
This will be an opportunity to interact with the presenter, and to fully examine the vital leadership topic they will be exploring in this workshop. Here's what has been planned for you:
How and When to Collaborate – Steve Douglass, President, Cru/Campus Crusade for Chrsti International.
What Really Sparks a Movement! – Dr. Naomi Cramer Overton, President/CEO, and Suzy Sheperd, Divisional Field Director, Stonecroft Ministries, Inc.
Building a Brand Promise  – Commission David Hudson, National Commander, The Salvation Army, USA, John Lee, Brand Management Principal at The Richards Group, and Elizabeth Clayton, Public Relationship / Principal at Richards Partners.
Whole + Intentional Leaders Development – Dr. Rob McKenna, Founder, and Dr. Daniel Hallak, CCO, WiLD Leaders, Inc.
Don't Call Us Millennials – Gabrielle Bosche, Found and President, The Millennial Solution.
Donors – Rooted in Relationship – Mike Rusch, CEO, Pure Charity
 Mission-Focused: Tying Your Mission to Execution – Atul Tandon, CEO, Opportunity International.
Employee Engagement in Diversity and Inclusion – Christine Talbot, SVP, Human Resources, and Chelsie Chane, Corinthians Council Member, Diversity and Inclusion Committee, World Vision, USA.
Relationology-based Leadership – Matt Bird, Found of Cinnamon International and Relationology International.
Leadership Lap – Idea Application Workshops
The afternoon offers nine more workshops. These are practical leadership workshops that will help you apply proven biblical principles to a range of issues facing today's Christian leader. They are led by front-line experts, and feature a wide range of topics that address real challenges and opportunities you face today as a Christian leader.
Leading Through Transitions – Bill Frisby, CCNL, CEO, Strengthening Leaders and Dr. Albert Reyes, CEO / President, Buckner International.
Comparison: Lead with No Filters – Dr. Kathleen Patterson, Professor and Director of the Doctor of Strategic Leadership Program, Regent University and Dr. Jennifer Murff, President, Millennials for Marriage.
How to Measure Ministry Outcomes – Dr. Paul Penley, Managing Director, Research Division, Excellence in Giving and Kevin East, President, The Mentoring Alliance.
Allies: Men Supporting Female Ministry Leaders – Dr. Halee Gray Scott, Director of Young Adult Initiative, Denver Seminary
Deeply Rooted in Worklife – Dr. Robert Harper, Director of Strategic Initiatives, Adjust Professor, and Dr. Gary Lindblad, Dean, Crowell School of Business, Bioia University.
Understanding and Surviving Organizational Meltdowns – Beth Chase, CEO, Chase Advancement, Inc.
What Your Boss Wishes You Knew – Robert McFarland, President, Transformational Impact LLC
Cultural Engagement and Leadership – Dr. Darrel Bock, Executie Director for Cultural Engagement, Howard G. Hendricks Center for Christian Leadership and Cultural Engagement, Dallas Theological Seminary and Dr. Christina Crenshaw, Lecturer, Baylor University and Post-Doctoral Fellow, Dallas Theological Seminary.
First, Lead Yourself – Alan Weisenberger, Principal, ELumen Leadership Services
As you can see, this day is designed to lift your leadership. This type of experience is far more effective when it is shared. So, be sure to bring a group and allow God to take your organization to even higher standards of excellence.
Come join us for this annual event!

SPECIAL NOTICE
If you can't make it this year for the entire Outcomes  Conference 2019…
Register for this one-day Leadership Intensive for only $399!
Contact Heather.Martin@ChristianLeadershipAllance.org and she will take care of you!

What is Christian Leadership Alliance?
Christian Leadership Alliance equips and unites leaders to transform the world for Christ. We are the leaders of Christ-centered organizations who are dedicated to faithful stewardship for greater kingdom impact.
Sign up for FREE blog updates.