Excellence in Governance Opportunities for You

Inspire Excellence in the Governance of Your Ministry
The Evangelical Council for Financial Accountability (ECFA) has declared 2019 the year of excellence in Board Governance. To support this proclamation, they are offering one-day training intensives for CEOs and Board Chairs in eight different cities this fall. These events are designed to help boards become more effective and unleash the potential for greater kingdom impact.
Featured Experts
This team of experts will be equipping you in person and by video.  If you prefer highly interactive sessions with peers, then this is the learning event for you.   Governance experts will guide your peer-to-peer discussions and ensure you are exposed to the most effective best practices found in boardrooms today.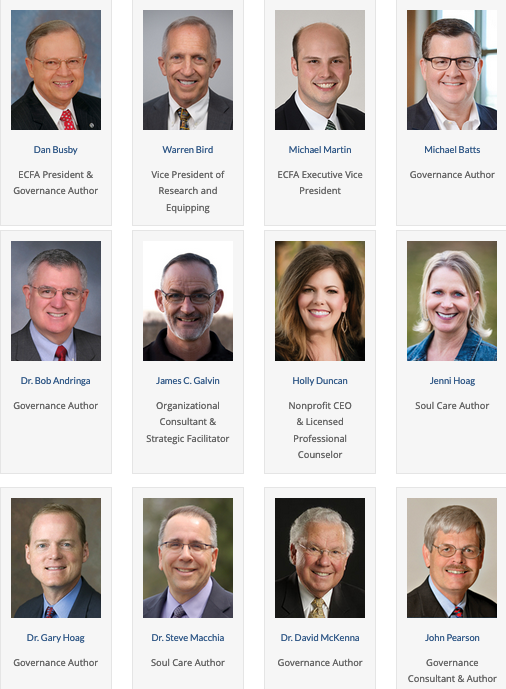 Mark Your Calendars and Reserve Your Seat!
Registration is open. Simply click the city closet to you to reserve your seat. If you are a member of ECFA, these events are free. If you are not a member, then the fee is $199. If you are not a member, you can also bring  group of five for $499.
• Dallas – September 19 – Prestonwood Baptist Church
• Charlotte – October 1 – Forest Hill Church
• Indianapolis – October 8 – Northview Church
• Denver – October 10 – Denver Seminary
• Philadelphia – October 15 – American Bible Society
• Chicago – October 17 – Parkview Christian Church
• Southern California – November 5 – Evangelical Christian Credit Union
• Atlanta – November 12 – 12Stone Church
The Deep Dive Learning Experience
If you decide you need an even more extensive training experience for your board, Christian Leadership Alliance offers 10-week Board Governance courses through its Outcomes Academy Online.  These modules are facilitated by governance experts and are available for you to experience exclusively with all your board directors.  If want a comprehensive shared learning experience to radically transform your board, then the Outcomes Academy Online –  Exclusive Module Program is the best options for you.
Here are the Board Governance courses the Alliance has to offer you:

The Basics of Better Governance
Biblical Foundations of Governance
Producing Catalytic Change in your Board
Building Boards that Produce
Assess and Strengthen Your Board
To learn more about the Outcomes Academy Online, course details, and how to schedule an Exclusive Module Program please contact:
Heather McCulloch, heather.mcculloch@christianleadershipalliance.org,
Scott Brown scott.brown@christianleadershipalliance.org.

What is Christian Leadership Alliance?
Christian Leadership Alliance equips and unites leaders to transform the world for Christ. We are the leaders of Christ-centered organizations who are dedicated to faithful stewardship for greater kingdom impact.
Sign up for FREE blog updates.