National Day of Prayer In Such a Time as This

Thursday, May 7, 2020 is the official National Day of Prayer

The National Day of Prayer calls on all people of different faiths in the United States to pray for the nation and its leaders. This year, God's people will find new ways to gather and pray.
HISTORY
In 1775 the Continental Congress allocated a time for prayer in forming a new nation. Over the years, there have been calls for a day of prayer, including from President Abraham Lincoln in 1863. On April 17, 1952, President Harry Truman signed a bill proclaiming the National Day of Prayer into law in the United States. President Reagan amended the law in 1988, designating the first Thursday of May each year as the National Day of Prayer.
The National Prayer Committee was formed in the United States in 1972. It went on to create the National Day of Prayer Task Force, with the intended purpose of coordinating events for the special day. According to the Legal Information Institute, the President shall issue each year a proclamation designating the first Thursday in May as a National Day of Prayer on which the people of the United States may turn to God in prayer and meditation at churches, in groups, and as individuals.
TRADITIONAL GATHERINGS
Through the efforts of the task force, more than 35,000 prayer gatherings are typically conducted by about 40,000 volunteers across the United States. Several million people usually participate in these large and public gatherings.
Other events in various communities across the United States have included: choirs and bands performing songs relating to prayer; community prayer breakfasts or luncheons; daytime prayer walks; and evening worship and prayer services or gatherings.
Unfortunately, this year we will not be able to observe the National Day of Prayer in the same way as we have in the past. But even a pandemic will not prevent God's people from finding a way to stand united in prayer for our country.
You can find some of the ways people will gathering by visiting the National Day of Prayer website.
CHRISTIAN LEADERSHIP ALLIANCE
As for Christian Leadership Alliance, we will be in the midst of the Outcomes Conference Digital Experience. God made a way for us to hold this digital event after our annual leadership training conference had to be canceled in April.  The event started on May 4th and runs through May 10th. Once the event is fully released, it will remain on-demand for all attendees through July 25, 2020.
Tonight the Alliance stands united with others in our country, as we pray for our government, media, the arts and entertainment, the marketplace, education, religion, and families.  Our gathering will take place virtually and it represents the voices of Christ-centered nonprofits, educational institutions, and business leaders who desire to see God transform our country. We wholeheartedly believe what God's Word promises.
 "If my people, who are called by My name, will humble themselves and pray and seek my face and turn from their wicked ways, then I will hear from heaven and will forgive their sin and will heal their land." – 2 Chronicles 7:14
YOU CAN JOIN US
We will live steam this event via the Christian Leadership Alliance Facebook page.
Go LIKE our Facebook page and plan to visit at 7:00 PM CDT, tonight.  The event is planned to last one hour. If you are at the conference, go to the SCHEDULE OF LIVE EVENTS in the main navigation bar. If you are not at the conference, we will see you at Facebook Live!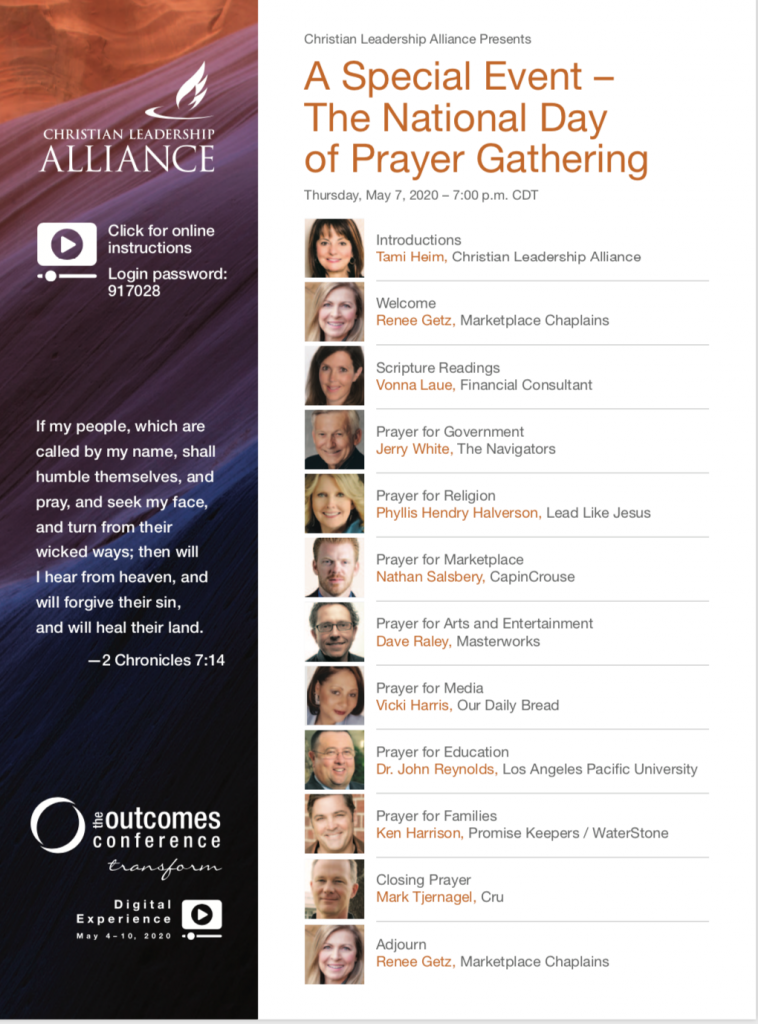 ####

You can still  REGISTER NOW and catch up on a schedule that works best for you.  Join this community of Christ-centered leaders and be equipped for the days ahead! The entire event will be on demand for you through July 25, 2020!

What is Christian Leadership Alliance?
Christian Leadership Alliance equips and unites leaders to transform the world for Christ. We are the leaders of Christ-centered organizations who are dedicated to faithful stewardship for greater kingdom impact.
Sign up for FREE blog updates.