You've Got to Want It By Phyllis Hendry Halverson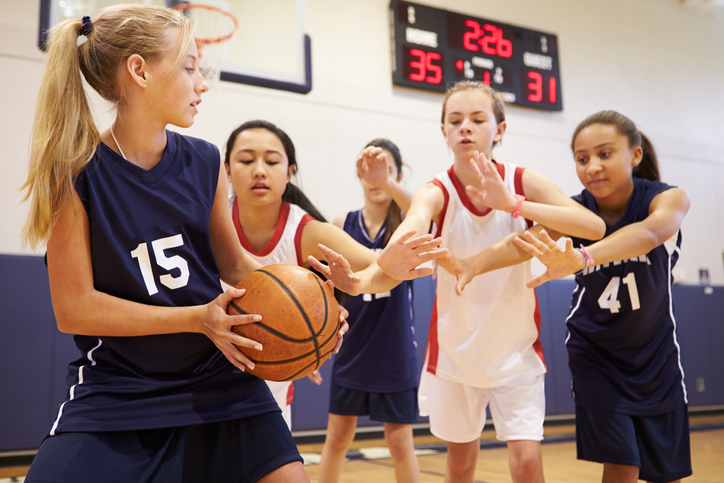 How hard will you pursue what you really want?
"You've got to REALLY want it!" he shouted. "GET THE BALL!"
I was pretty frustrated with this father, who had been shouting this same mantra to his daughter throughout the game. As these seventh-grade girls struggled, the intensity of his "encouragement" elevated.
However, I understood the power of his statement. It is true: our human desires impact outcomes.
A MAN'S DESIRE

Bartimaeus had a great desire. Told in Mark 10:46-52, his story is of a blind man who knew what he wanted—and He believed that Jesus could help him.
Bartimaeus cried out, "Son of David, have mercy on me!"
People told him to be quiet, but he shouted all the more. Bartimaeus had something he really wanted.
Jesus heard him and said, "Call him."
The blind man immediately threw off his cloak and ran to Jesus.
Then, Jesus asked him, "What do you want me to do for you?"
Without hesitation, Bartimaeus revealed his heart's desire. "Rabbi, I want to see."
Jesus responded, "Go, your faith has healed you."
Immediately he received his sight and followed Jesus along the road."
ENCOUNTERING JESUS

Can you imagine what it was like to stand face-to-face with Jesus as He asked, "What do you want me to do for you?"
What would it would feel like if He asked you that same question?
The truth is, Jesus knows your heart's desires, as surely as He knew what Bartimaeus wanted. As we align our desires with His, He is willing and able to bring us satisfaction.
Psalm 37:4 reads, "Take delight in the Lord and he will give you your heart's desires."
The cloak may have been all that Bartimaeus had. Perhaps it was where he had his money, but he threw it off and ran to Jesus.
We are tempted to hold onto our dreams, possessions, accomplishments or hurts and fears – but these only weigh us down. If we really want what we say, we've got to be willing throw off anything that holds us back from meeting Jesus.
ACKNOWLEDGE DESIRES

Recognize and articulate the deepest desires of our hearts.
Questions to ponder:
What keeps you from meeting Jesus?
What fears, pride-filled attitudes, hurts or selfish ambitions do you need to release so that you can run to Him?
Bartimaeus asked Jesus for what he wanted.  Wasn't it obvious?!
Sometimes we are so focused on our immediate needs that we squelch the underlying desires buried deep inside.  Bartimaeus wanted to see – and to be seen.
There are many things I want. I want to spend more time with my kids, and with my grandkids. I want Lead Like Jesus to thrive and my team to feel loved and appreciated.
But what I really want is more of Jesus. I want to see the world as Hedoes, to love others as He loves them.
FOLLOW THE LEADER
Follow the One Who gives you sight.
Questions to ponder:
What do you want for Jesus to do for you ….really?
What do you need to make you the leader you were created to be?
Once Bartimaeus was healed, he walked away from his past, following the One Who gave him sight.
I have been healed. I now see and want to follow Jesus, too.
REALLY WANTING IT
There is desire that can't be squelched.
Questions to ponder:
Who takes the lead in your life? Are you following Jesus, or are you sitting by the road?
Where is Jesus leading you? What steps can you take today to walk down that road?
As abrasive as that basketball dad was, his message rings true. Do you want to see meaningful change in your life and leadership?  You've got to want it. REALLY want it!
Bartimaeus had a strong desire; it was strong enough to go against the crowd, throw off everything he had, stand face-to-face with Jesus.  He had a desire that could not be squelched.
Have you ever found yourself in this place where you want your family to thrive spiritually and emotionally? You want your ministry, business, or church to grow, and impact the world.  But you are getting nowhere.
Like Bartimaeus, we all come to a crossroad. As we throw off everything and get honest, we can come to Jesus and hear His question…
"What would you like for me to do for you?"
Lord, help me to see…truly see. Help me to know you more, and to see the world as You see it.
I want to follow Your lead today. Amen.
####
Phyllis Hendry Halverson is the president and chief executive officer of Lead Like Jesus, an organization that exists to glorify God by inspiring and equipping people to lead like Jesus.
LAST DAYS FOR EXTRA SAVINGS!
Register now for the Outcomes Conference 2021. It is time for us to come together to learn, engage and grow.
Special rates are effective through October 31, 2020. Come and discover what God has planned for you!

What is Christian Leadership Alliance?
Christian Leadership Alliance equips and unites leaders to transform the world for Christ. We are the leaders of Christ-centered organizations who are dedicated to faithful stewardship for greater kingdom impact.
Sign up for FREE blog updates.