The Pathways to Sustained Interdependence By Gary G. Hoag

Have you found the pathway to sustained interdependence?
Sustained interdependence is the necessary interplay between people and God that results in fruitful and flourishing ministry. This post aims to unpack the aspects of this necessary interplay so you can experience it where you serve.
Sustained Interdependence
In his book When Money Goes On Mission, Rob Martin sets forth the idea of sustained interdependence as a "communion of giving and receiving" that happens in local settings when partners—both givers and receivers—work together with God. He smartly reminds us that we are all equals at the foot of the cross and completely dependent on Christ, so each of us must value and recognize what the other has to offer and play our roles together.
Too often giving and receiving comes into view as handouts that create dependencies. This is unsustainable! What if instead we gave a hand up to build disciples. But how do we encourage this "communion of giving and receiving" where we are? Why are outside aid and local support both important? What can we do to nurture this necessary interplay? For a longer exploration of those questions, read Rob's book. It's a page-turner. For a short answer, apply the practical ideas in this blog.
God's Economy
It starts with grasping three factors with an "economy of God" mindset. The economy of God is not a Gary-idea, it's a God-idea. The Greek expression appears three times in the New Testament. In 1 Timothy 1:4 it is the order of things that is the opposite of the world. In Ephesian 1:10 it proclaims that Christ makes everything flourish in heaven and on earth. And Ephesians 3:9-10 discloses that the Church is the channel for making this mystery known to the world.
The Path
The path to fruitfulness and flourishing will be the opposite of the world, have Christ at the center, and be revealed to the world through us, the body of Christ. With this mindset, I suggest intentional thinking and actions linked to these three factors: stewards, standards, and sustainability.
This chart presents them alongside the worldly perspective to avoid.
| | | |
| --- | --- | --- |
| |              Economy of this World |                          Economy of God |
| Stewards | People use resources they think they own following cultural norms or worldly financial instructions which aim at accumulation. | Stewards use God's resources according to the generous Kingdom teachings of Jesus to share good news and show God's love to the world. |
| Standards | Leaders think they need money to fuel mission. They do what it takes to get it often reflecting local patterns of corruption. | Ministry administrators know they need workers. They build trust with accountability and invite people to join them in prayer, giving, and service. |
| Sustainability | The prevailing mindset is scarcity. Supply is limited to human capacity. Budgets drive decision making. Leaders hoard funds in fear. | An abundance mindset prevails. Supply is rooted in God's goodness. God's servants discern direction and put resources to work in obedience and faith. |
Now let me show how these three factors come together to form the necessary interplay.
Build Stewards
Firstly, when givers use God's resources to accomplish His purposes, they play their part. Sometimes givers from outside will help start a ministry in another setting, but long-term sustainability is linked to a local community of support. Build stewards!
Follow Standards
When receivers or ministry administrators enhance trust by following standards and invite givers to participate with them on mission, they offer something special to givers. As Rob Martin writes,
"Their money can accomplish nothing without the partner who is seeking the transformative effect of the gospel in the fields where they work."
When receivers deliver accountability, stewards engage joyfully as fellow workers in the harvest. Follow standards!
Experience Sustainability
Lastly, the necessary interplay happens as these groups live out their roles with each other and God with an abundance mindset. Givers share generously and sacrificially and do not end up empty but rather enriched. Receivers discern direction from God regarding service and put to work all God supplies in obedience. Experience sustainability!
Giving and Receiving
The "communion of giving and receiving" happens in local settings when givers and receivers come together in Christ, make Him known in obedience, and exhibit their collective trust in his abundance in community. And here's the best part! Anyone can do it. God's workers around the world are helping ministries experience sustained interdependence by encouraging the necessary interplay that follows His economy or design.
The question is, will you?
 ####
Gary G. Hoag, Ph.D., serves as President & CEO of Global Trust Partners (GTP). Rob Martin is founding board member for GTP. In obedient service to Jesus Christ, GTP multiplies faithful stewards and mobilizes peer accountability groups (like ECFA in the USA) to build trust and to grow local generous giving to God's work. Visit GTP.org to learn more.
Come join us in beautiful Orlando, Florida!
Learn and Be Inspired by High Impact Thought Leaders.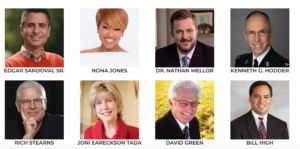 What is Christian Leadership Alliance?
Christian Leadership Alliance equips and unites leaders to transform the world for Christ. We are the leaders of Christ-centered organizations who are dedicated to faithful stewardship for greater kingdom impact.
Sign up for FREE blog updates.