Be Equipped for Next Level Leadership By Megan Pacheco

Are you ready to achieve next level leadership?
Most leaders seek to take their leadership to the next level. If you do a simple Amazon search, you'll find over 60,000 books on leadership. Most of them give one-sided advice, and judging by the leadership results in the marketplace, they're failing to produce good leaders.
According to the research by Barna Group, 90 percent of Americans believe the nation is facing a crisis of leadership, 61 percent say they work for a bad boss, and 33 percent say that poor leadership at work is the most stressful part of their workday.
To bring it a little closer to home, almost 60 percent of Christians surveyed by Barna consider themselves as "leaders" yet 82 percent of them not only agree that we are facing a leadership crisis, but also say that they themselves are not exhibiting the kind of leadership qualities they expect in others. Ouch!
Follow the Leader
At Lead Like Jesus, we believe that leadership doesn't exist apart from the leader. Biblical leadership, which focuses on Jesus as the greatest leader role model, recognizes that unless the person is changed on the inside, no amount of tactical external changes will make a lasting difference.
Leading like Jesus aims at the heart of the leader first. Why?
Because every tactical problem, whether at home or in the workplace, can be traced to heart issues within the leader: weak character, fear, pride, not being able to distinguish right from wrong or misplaced priorities. The heart of a leader must be transformed before any lasting personal and organizational change can take place.
Every leader leads toward something.
There is always an end goal, a desired result, a long-term aim in mind. What's yours?
Leading like Jesus ultimately aims at bringing others into a closer relationship with Jesus. Instead of using people as means to achieve certain ends, leading like Jesus fuels leaders to lead with love, truth, grace and forgiveness while putting others before self. It recognizes people are objects of God's love, and challenges leaders to treat every person as such. It is, without a doubt, the most radical and most transformational way of leading and influencing others!
The Perfect Model
The leadership model of Jesus considers serving others as the highest form of leadership, as reflected in these words of Jesus recorded by Matthew:
"Jesus called them together and said, 'You know that the rulers of the Gentiles lord it over them, and their high officials exercise authority over them. Not so with you. Instead, whoever wants to become great among you must be your servant, and whoever wants to be first must be your slave—just as the Son of Man did not come to be served, but to serve, and to give his life as a ransom for many'" (Matthew 20:24-28).
As you seek to grow in your leadership, what's your heart motivation? Who is your ultimate leader role model you choose to daily follow? What's your source of wisdom that not only informs your thinking, but also affects the way you relate with those in your spheres of influence?
Go to the Next Level
Because everything rises and falls on leadership, we invite you to join us on this LIVE-stream Next Level Global Gathering on October 13th so that you can not only discover Jesus as the greatest leader role model, but also take next steps in becoming a leader who leads like Jesus! Why?
"…so that you [as a leader] might go and bear fruit—fruit that will last" (John15:16).
In-person behind the scenes experience is available to a limited audience at Southeast Christian Church in Louisville, Ky.
####
Megan Pacheco is the VP of Marketing for Lead Like Jesus.
Lead Like Jesus presents a LIVE stream event that will feature well-known speakers in the faith-based arena, including author Patrick Lencioni, best-selling author and coach Jon Gordon, stress relief coach Lauren Miller, and Ken Harrison, CEO of Promise Keepers! Plus, Passion Music will lead worship!.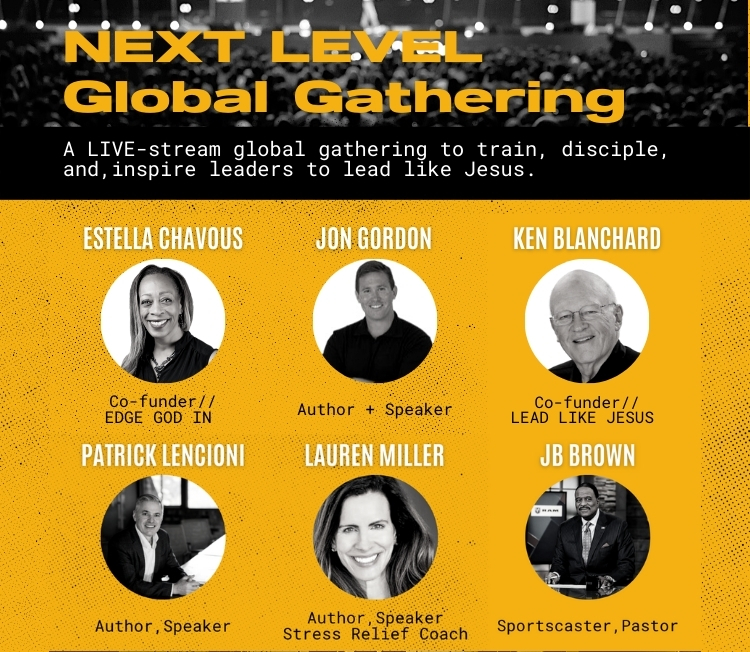 What is Christian Leadership Alliance?
Christian Leadership Alliance equips and unites leaders to transform the world for Christ. We are the leaders of Christ-centered organizations who are dedicated to faithful stewardship for greater kingdom impact.
Sign up for FREE blog updates.