Remarkable Truths About A Widow By David Sanford

4 Remarkable Truths in the Story of a Poor Widow Who Gave All
How often do widows come up in the Gospels? Surprisingly, a lot! The most famous widow's story is found at the end of Mark 12. At first, what Jesus appears to do (and not do) causes many readers to wince.
Even worse?
(1.) Religious leaders may have cheated this particular widow out of her rightful property.
Mark 12 takes place in the crucible of Jerusalem only a few short days before Jesus lies down His life.
A group of religious leaders called Sadducees confront Jesus one last time. Up to this point, everything Jesus has said and done has shown how seriously wrong the Sadducees are. Why is Jesus so opposed to them? The Sadducees didn't believe in anything supernatural. They didn't believe in angels, miracles, judgment, resurrection, or the afterlife. To say the least, the Sadducees had no love for the Lord. They also felt repulsed by the common people. Proof? Their favorite joke made a mockery of childless widows (Mark 12:18-27).
Early in our marriage, Renée and I were asked to lead our first home Bible study. When we said yes, we were asked who we wanted in our group. We looked at each other and said, "That's easy. We want a living room full of widows." That was an amazing, wonderful year full of wisdom as we learned from nearly a dozen godly, lovely, and loving widows.
Sadly, not everyone loves widows. The Sadducees and other religious leaders controlled the judicial system, which barred women. When a woman's husband died, therefore, she couldn't do anything to protect her family's property from being seized "legally." How wicked. Jesus condemned these religious scam artists in no uncertain terms (Mark 12:38-40).
That's not all.
(2.) Her neighbors neglected their obligation to help poor widows.
In biblical times, loving your neighbor meant giving to the homeless and poor on a regular basis, especially widows. How?
First, by inviting them to join your family for every holiday feast (Deuteronomy 10:18-19, Deuteronomy 16:10-14, and Deuteronomy 26:11). Second, by sharing part of your wealth with them every third year (Deuteronomy 14:28-29 and Deuteronomy 26:12-13).
Third, by leaving part of your crops for them to glean during each and every harvest (Leviticus 19:9-10, Leviticus 23:22, Deuteronomy 16:19-20, and Deuteronomy 24:19-21). We see this intricately woven into the story of Ruth who, after her husband's death, temporarily experienced homelessness and poverty (Ruth 2:2-3, Ruth 2:15-16, and Ruth 2:19-23).
What we sometimes miss in the Gospels: Jesus and His disciples gave alms to the poor regularly and routinely. It's what all godly, good-hearted Jewish people did. Sadly, however, the poor widow of Mark 12 had been neglected by relatives and overlooked by neighbor.
All she has left are two mites.
(3.) She gave all she had three days before Jesus gave His life.
I can imagine the poor widow of Mark 12:41-44 contemplating the promises of God as she walks toward the Temple that Tuesday, just three days before our Lord Jesus gave His all for us on the cross.
As she walks into the Women's Court in front of the Temple, I can imagine the widow carefully carrying her small purse, contemplating what she is about to do. As Jesus watches, she stops in front of a funnel-shaped offering receptacle. She reaches out her hand and drops in her last two small bronze coins.
Jesus knew this widow well. Yes, it's true, He knows all widows. And He knew this poor widow had no property and no close family to take care of her. Therefore, since it was something He did often, I believe Jesus motioned for one of His disciples to follow after her and quietly give her a handful of silver coins.
Consider what this poor widow shows us.
(4.) Her two mites prove no gift is too small, and no gift is too large.
First, she shows us that no gift is too small. Her two little coins couldn't even buy the smallest bird to sacrifice or eat. How in the world could her miniscule donation make any difference? To Jesus, it made all the difference in the world. That small donation proved that this poor widow was fully and wholly dedicated to the Lord her God. Her love, trust, and sheer bravery move me. And, it clearly moved Jesus, who honors her here and in Luke 21:1-4.
Second, she shows us that no gift is too large. Jesus tells us that she put in more than all the other contributors. She put in all she had to live on. Now of course she could do this because she wasn't obligated to care for anyone else. Scripture teaches that our obligation to care for our family's real needs supersedes any gift we desire to give. Giving isn't a way to shirk our God-given responsibilities at home.
Then again, imagine you have only $80 left to pay $800 of bills. Or imagine getting so low you have only two pennies to your name. What's the only thing a wholehearted lover of God can do? Yes, put it in the offering. Give it all. Don't hold anything back. And then don't be one bit surprised when God blesses you with a handful of silver coins. And, don't be one bit surprised when God blesses you with an anonymous gift of $810. Not $800, but $810, because God remembered you also needed some gas money.
Yes, the Lord's providential work, and His answers to our specific prayers, do something wonderful. They increase our love, faith and trust in Him. How sad, though, when personal interests, wants, and desires end up squeezing someone's tithes, gifts, and offerings to a trickle.
How easily we ignore this marvelous truth: Everything—everything—you and I desire, want, and need is found in the Lord, and through the Lord alone. Why would we look anywhere else? You can be sure this marvelous truth had grabbed hold of the poor widow's heart. As a result, she gave all she had.
Recently I met a couple who have increased their monthly giving by 20 percent. I was introduced to another couple who have doubled their church giving this year. Yet another couple, when doing their taxes earlier this year, realized they had given away the equivalent of the wife's entire annual salary to their church and missionaries. She quipped, "Why in the world did I land such a demanding job?" Yet God has richly blessed them!
In Matthew 6:21, Jesus tells us:
"Where your treasure is, there your heart will be also."
The apostle Paul unpacks it in 2 Corinthians 8, especially verse 5:
"Generous giving is the outflow of all who give themselves "first of all to the Lord."
Every morning I tell God: Today I want to love You wholeheartedly! And today I want to love others well. May I experience, and overflow with, Your love today.
How is your heart? Filled with love for God and others? Overflowing in giving? I hope so!
####
David Sanford's book and Bible projects have been published by Zondervan, Tyndale House, Thomas Nelson, Doubleday, Barbour, and Amazon. His speaking engagements have ranged everywhere from UC Berkeley (CA) to The Billy Graham Center at the Cove (NC).
It's Time to Overcome the Obstacles!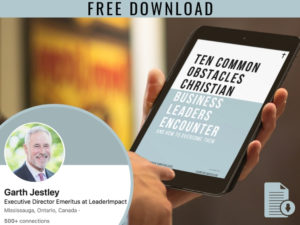 "From personal experience in business leadership, I've identified 10 false beliefs frequently held by Christian business leaders, often subconsciously.
10 Common Obstacles Christian Business Leaders Encounter and How to Overcome Them
offers a side-by-side comparison of those false beliefs and the reality of God's perspective about you and what you do." –
Garth Jestley
April 26-28, 2022
Louisville, Kentucky
Member Advantage: Register 4 leaders and get a fifth registration FREE.

What is Christian Leadership Alliance?
Christian Leadership Alliance equips and unites leaders to transform the world for Christ. We are the leaders of Christ-centered organizations who are dedicated to faithful stewardship for greater kingdom impact.
Sign up for FREE blog updates.