Develop Your Personal Leadership Skills!
It's time to invest and develop your personal leadership skills!
We have some exciting news to share with you and it will impact the development of your personal leadership!
Christian Leadership Alliance is introducing a ninth core discipline that centers on Personal Leadership. This  training will be developed and added to the scope of training the Alliance provides leaders in this country and now around the world.
We often find that leading yourself is the missing link in a leaders' overall ability to accomplish the work he or she has been called to accomplish. Going forward, The Alliance leadership focus will include three disciplines:  Personal Leadership, Executive Leadership and Board Governance.
Doing the Research
In collaboration with Christian Leadership Alliance, Azusa Pacific University is also conducting a study of self-leadership practices among leaders of Christian organizations and various ministries. We want to make sure we develop future training that works to eliminate leadership competency gaps.
We need your help to do it!
Your feedback will shape the future training we develop as an Alliance community.
This survey will take about 10 minutes to complete.
Click here to complete the survey!
Please take the survey prior to December 8, 2021.
We know  that when you take the survey, you may find it thought provoking as you think through the various practices described. The survey is completely anonymous and will not collect any identifying information.
The results (in aggregate form) will be published and presented at the upcoming Christian Leadership Alliance Outcomes Conference, April 26-28, 2022 in Louisville, Kentucky.
We Are Rolling at The Outcomes Conference 2022
At the Outcomes Conference 2022, the Alliance community has prepared a robust offering for the  Personal Leadership Track.  The educational experiences include 12 Breakthrough Workshops and three, 5-hour Leadership Intensives.
Here is the line up for this Personal Leadership Track:
Breakthrough Workshops (1.5 Hours)
Emotional Intelligence for Kingdom Impact – Rich Cummins, President/CEO, and Jason Tash, Director of Content Development, Lead Like Jesus
Establishing Personal Structures to Thrive  – Vonna Laue, CPA, Financial and Operational Consultant
My Identity = My Leadership  – Dr. Kayon Cameron, Digital Content Project Manager, Family Life
Becoming a Leader of Influence – Lauren Vanaman, CCNL, Executive Director, Banning Leadership Foundation
Resilience in Reality  – Ginger Hill, Christian Wellness Speaker, Coach & Consultant, Good Health for Good Works
Increasing Influence by Leading Small  – Robby Angle, President, and Dr. Bruce McNicol, President Emeritus, Trueface
Solid Soft Skills, Solid Leader – Brooke Hodnefield, VP of Nonprofit, and Toni McEwan, Associate, Sr. Vice President, Strategy, Slingshot Group
Life Together: What does it mean to belong?  – Dr. Peggy Banks, Global Director, TWR Women of Hope
Mastering You – Vicki Harris, Sr. Vice President, Global Human Resources and Diversity, Equity & Inclusion, Our Daily Bread Ministries
Leading from Joy  – Season Bowers, Pastor, SeasonBowers.com
Self-Stewardship for Better Impact  – Greg Darley, CEO, Stewardship of YOU
Building a culture of Spiritually Atuned Leadership – Tracy Mathews, Executive Director, Attne to Grow, Inc.
Leadership Intensives (5.0 Hours)
 The Way of the Beloved  – Margaret Fitzwater, Executive Director, Navigators TDC (Train-Develop-Care), and Dr. Mark Looyenga, Navigators Director of Care, The Navigators
Leading from the Inside Out – Alan Weisenberger, Principal, enLumen Leadership Services, and Scott Vandeventer, President, Empathic Inc.
People Management and Care: Leveraging Belonging to Increase Bottom-Line Results  – Dr. Arthur L. Satterwhite III, Vice President of Diversity, Belonging & Strategy, Young Life
We hope you take the survey and register for the Outcomes Conference 2022. We will be in Louisville, Kentucky on April 26-28! This is an excellent time for you to come and bring with a group of high potential leaders in your organization!
It is time to invest in the ones who will one day transform the many!
####
THE OUTCOMES CONFERENCE 2020
IT'S WHERE A LEADER LIKE YOU BELONGS!
SEE YOU IN LOUISVILLE!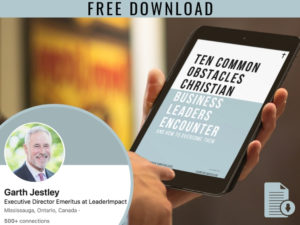 It's Time to Overcome the Obstacles"From personal experience in business leadership, I've identified 10 false beliefs frequently held by Christian business leaders, often subconsciously. 10 Common Obstacles Christian Business Leaders Encounter and How to Overcome Them offers a side-by-side comparison of those false beliefs and the reality of God's perspective about you and what you do." – Garth Jestley

What is Christian Leadership Alliance?
Christian Leadership Alliance equips and unites leaders to transform the world for Christ. We are the leaders of Christ-centered organizations who are dedicated to faithful stewardship for greater kingdom impact.
Sign up for FREE blog updates.