The Priority of Our Outcomes By Larry Gadbaugh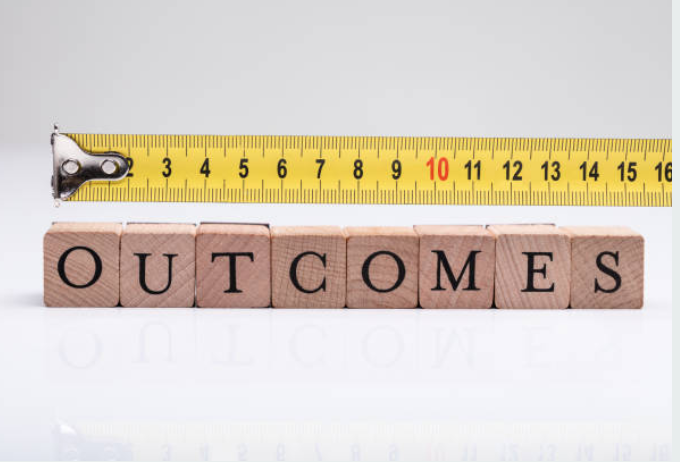 The Significance of Outcomes
As leaders we are judged by our outcomes. Our strategic plans, our metrics, our annual reports, all concentrate our attention on our outcomes. As people of faith, we recognize and embrace our Lord's measurement:
"By their fruits you shall know them."

~ Matt 7:20
This is why we lead, manage, motivate, and measure our efforts and results by our production. We share this priority with the rest of the culture of business, philanthropy, and social services. But, how does our faith as Christian leaders contribute any distinctive to our measurement of outcomes?
What are Outcomes
What are the outcomes, the fruits of our leadership that Jesus looks for from us? And, what is the focus of our energy to produce those outcomes from an eternal perspective, while meeting the goals of our strategic plans and programs?
Stewards Not Owners
Since we are on assignment as Christ's steward leaders, and not "owners" of our organizations, it only makes sense to embrace his priorities and his process if we are to produce his outcomes. Jesus gives us our distinctive. We lead and pursue outcomes with an eternal perspective. Thankfully, God has given us empowering promises that actually ensure that our efforts will produce results that will outlast our tenure of leadership. If these promises are true, then they should direct all our priorities and practices. Otherwise, we are left to adopt only whatever the latest industry guru has to offer.
Learning from Peter
In this short space, consider the promise of one of Jesus' most ambitious followers, Peter. His whole life is a story of good intentions, passionate well-intentioned impulses to impress his Boss and his colleagues. His career trajectory as lead apostle is well-known, often taught to make us feel better about ourselves by comparison.
Through many dangers, toils and snares, Peter comes to the end of his life and provides his mature insight on how Christian leaders and the rest of us can be assured of sustained, growing outcomes that are transformative for ourselves and the people we lead.
First, the promise:
"For if these qualities are yours and are increasing, they keep you from being ineffective or unfruitful in the knowledge of our Lord Jesus Christ. "

~ 2 Peter 1:8
Put positively, a promise that we will be fruitful and effective in our calling.
Our Best
Then, the condition behind the "if": For this very reason, make every effort to supplement your faith with virtue…(1:5ff). God expects our best efforts in producing the "fruit" of our life and leadership.
And, then the "very reason" God has made it possible for us to live and lead such a productive life: His divine power has granted to us all things that pertain to life and godliness, through the knowledge of him who called us tohis own glory and excellence. (1:3f). Our "every effort" is empowered by God's grace he has granted to accomplish the assignment he has given us to fulfill. As Jesus said, "Apart from me, you can do nothing." (John 15:5).
The Promise
This stunning promise of sustainable, lasting, growing outcomes requires some deep digging and diligent exercise of faith and discipline. I've only highlighted Peter's main points. But, if it's true, can there be any greater priority for our leadership?
Our resource for transformation is secured. We're given "everything we need for life and godliness!"
Our outcomes are guaranteed – i.e., the results that count for eternity. "We will be neither unfruitful nor unproductive" – or to put it positively – we will certainly be fruitful and productive.
The priority and process for lasting impact: Focus on growing in our trust in Jesus by "making every effort" to grow in the virtues of Christ-likeness.
Leaders who pursue Christ-like virtues and character are available to God for any assignment he has for us to serve and steward, with results that honor God, impact those we lead, and produce the outcomes we pursue in our relationships and responsibilities.
Two Strategic Questions
Consider integrating a couple questions into your strategic planning process:
As we seek measurable, sustainable, lasting outcomes in our leadership, how are we being diligent to make progress in "adding" deeper Christ-like virtues to our faith?
How is our leadership cultivating an environment of spiritual growth toward Christ-likeness in our family, business, church, ministry, or community?
It's our task as men and women entrusted as steward leaders to discover what that looks like in our sphere of stewardship in family, business, church, community and culture. Regardless of the industry, the priority is the same for the Christian leader. The path to godly character doesn't culminate until our "rich entrance into Christ's kingdom."
As we gladly persevere in the pursuit of Christ's virtues, the outcomes we produce will impact those we lead and represent Christ well, and reverberate throughout eternity.
####
Larry Gadbaugh serves as the Executive Director of Guidelight and Executive Director of Oregon Pregnancy Centers Association. He and Diane have been married 45 years. They have 5 adult children and 3 grandchildren.
---

Enjoy the April Outcomes Conference Podcast with Reverend Dr. Nicole Miller
(Access it in the right column of this CLA Higher Thinking Blog Post)
---


What is Christian Leadership Alliance?
Christian Leadership Alliance equips and unites leaders to transform the world for Christ. We are the leaders of Christ-centered organizations who are dedicated to faithful stewardship for greater kingdom impact.
Sign up for FREE blog updates.