Fundraising Pressure By Randy Bronkema

Don't Let the Pressure of Fundraising Cripple You!
So, you are relatively new to fundraising and now you're a new Development Director. The Executive Director of the Board says you must raise $150,000 in your first year! That amount will cover the cost of bringing you on and will give the ministry a good return on investment.
"Wow!" you might think. "It's a little intimidating, but also exciting." You imagine meeting that goal and all the good it would do for your place on the team and for the organization's mission. You are focused and ready to get started.
In the beginning you make a lot of calls, but don't get many answers. In the first few days you have called fifteen people a day, and so far, have had only one answer. Unfortunately, that person was not interested in meeting with you.
The Pressure of Fundraising
Excitement without initial success quickly turns into pressure, and you don't know who to talk to about how you are feeling. You consider talking to your boss, but you don't want to lose your job. You try for a few more days, but feel yourself starting to withdraw, finding reasons to not pick up the phone.
This goes on for a while. The pressure is mounting. You haven't come close to raising the funds, and you don't know what to do next.
Can you relate to this scenario? Listen, if there hasn't been a lot of major donor work at your ministry, it will be hard to move forward. That doesn't mean it will be impossible. And it doesn't mean you should quit!
Do you think Satan wants you to win? No! Of course, not. Satan realizes the ministry you are working to fund is powerful and good – and he wants it to fail. He wants you to fail. He wants your confidence to wane, and he wants to sideline you.
He also delights in keeping people from joining together, giving generously, and accomplishing a goal.
The Basics of Fundraising
If you are feeling this way at all, don't let the pressure of fundraising cripple you. Please take a breath. Let's go back and consider a few basic things about fundraising:
Decide to never give up. Great development people decide to never give up on someone. They are always thinking of new ways to reach out and new ways to love. Don't give up on a prospect unless their passion for giving is different than your mission.
Set up a simple accountability system. When I start to work with a client, I always ask an initial series of questions. So often, I will learn no one in that ministry is tracking development work. I cannot emphasize enough how important it is that you monitor and share the work you do. Please call me if you need help setting up an accountability system.
Stop worrying about raising funds. Remember, your job is to plant seeds and ask. It is not your job to worry about the outcome. God raises the money. The Holy Spirit will prompt someone to give or not give. Always measure development work by the asks, not the dollars raised. Remember, it is critical and Biblical to ask. And, when you shift your attention to the ask instead of the dollars you need to raise, there are now things you can change, learn and work on.
Prayer is an essential part of development work. Since it is God's responsibility to raise funds (not yours) wouldn't it make sense to bathe each day, and each ask, in prayer?
Find a coach. Everyone needs a coach to help navigate the hard times and overcome obstacles we all face in development.
I believe fundraising is a very noble calling. Please don't let the pressure of fundraising cripple you. Make the ask and then rest. Ultimately, it is God's responsibility to raise the funds. Press on friend, the best is yet to come.
####
Randy Bronkema is a senior consultant for Dickerson Bakker & Associates. Randy helps leaders of Christian organizations rise to the next level through focused vision and fundraising. He has decades of experience unleashing generosity in others!
If you are a Christian nonprofit leader,  you don't need to go it alone. Today you can join the Christian Leadership Alliance community of leaders who share your purpose and are willing to share what they know to help you grow.  Become a member of the Alliance and you will grow professionally, develop valuable relationships, and receive the encouragement you need to keep on going!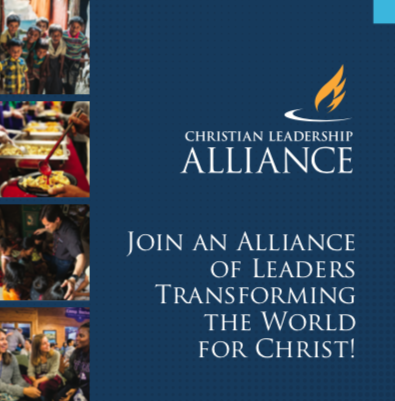 What is Christian Leadership Alliance?
Christian Leadership Alliance equips and unites leaders to transform the world for Christ. We are the leaders of Christ-centered organizations who are dedicated to faithful stewardship for greater kingdom impact.
Sign up for FREE blog updates.