What If I Don't Have the Funds to Invest in Donor Acquisition? By Wiley Stinnett

The Reality About New Donor Acquisition
Since I don't know of any free way to new donor acquisition, you've got a big challenge.
Current Reality
The Fundraising Effectiveness Project showed that on average, over half of your donors from last year will not give a gift again this year. That's an industry average attrition rate of over 50%! If you don't replace or reactivate these lapsed donors, your donor base will continue to shrink accordingly.

You can see why we have a dilemma. So, how many new donors do you need to acquire just to replace your lapsed donors?
Let's do the math: Active Donors* X Attrition Rate** = Number of Donors Needed
That's how many new donors you need to add, just to replace your lapsing donors. You will need even more if you want to grow.
Urgency of Acquisition
So the question becomes, can you afford not to acquire new donors? And the answer I would present is: absolutely not.
Instead of figuring out how to survive without investing in acquisition, let's talk through a proven strategy to help you optimize your acquisition investment through major donor partnerships.
The cost to acquire a new donor is significantly less than the long-term value of a new donor. As such, many non-profits have successfully convinced major donors to help them invest in donor acquisition.
And they're excited about it! It's an easy sell when major donors can see that the value of their gift gets multiplied many times over by the new donors they helped make possible to acquire.
The ROI
For example, $25,000 invested in digital acquisition could generate 357 new donors. In a single year, when properly cultivated, those donors will generate about $60,000. What a great way for a donor to turn their $25,000 gift into $60,000 for your organization!
This is entirely possible!
####
Wiley Stinnett is the Executive Creative Director and Senior Vice President, Strategy and Insights for Douglas Shaw and Associates. Wiley a direct response fundraising expert who provides clients with proven direct response strategies and ideas based on real-world experience. With more than 35 years of experience working with ministries, Wiley continues to provide counsel on how to grow donor relationships and improve direct mail, web, digital, radio, television, and events income.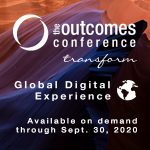 No worries if you missed the launch.
You can still register for The Outcomes Conference Global Digital Experience.
Experience over 150 live and recorded experience that will equip you for operational excellence.
Come on and join us, don't let another day pass you by!

Fall Means Back To School – For A Leader Like You!
Registration is now open  through September 21, 2020

What is Christian Leadership Alliance?
Christian Leadership Alliance equips and unites leaders to transform the world for Christ. We are the leaders of Christ-centered organizations who are dedicated to faithful stewardship for greater kingdom impact.
Sign up for FREE blog updates.